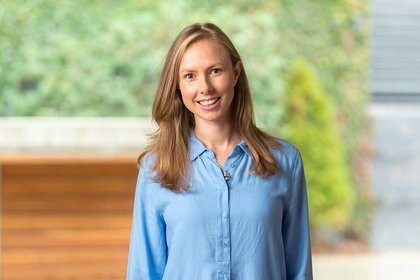 Last updated: Tuesday 5 April 2022
An entrepreneur who founded a company to allow investors with as little as five bucks to get into the sharemarket is one of four Massey alumni recognised in this year's University Defining Excellence Awards.
Brooke Roberts, who graduated in 2013 with a Master of Finance (with Distinction) and is a co-founder of Sharesies, received the Distinguished Young Alumni Award.
Ms Roberts says the philosophy behind Sharesies, a sharemarket investment company, is to create a level playing field for investors regardless of how much money they have and remove some of the jargon that causes nervousness.
"We wanted to give someone with five dollars the same investment opportunities as someone with $500,000. With the technology available today, there's no reason why access to wealth development should be so unequal."
Another reason was to encourage more New Zealanders to invest in markets. At present 20 per cent of Kiwis invest in the sharemarket, compared with 30 per cent of Australians and 50 per cent of Americans.
Ms Roberts, a director of Sharesies, worked as a marketing assistant before going on to finance, product and marketing roles at AJ Park, Kiwibank and Xero, working full-time while studying part-time at Massey.
Beginning her study just after the Global Financial Crisis (2007-2008) proved to be timely. "I learned heaps about the human side of investing. I think that learning has really been taken into what I do today."
She wanted to start her own business and combine her twin interests in marketing and finance. Her dream started to gain momentum when she met a group of like-minded entrepreneurs. The group of seven, including Massey alumni co-founders Martyn Smith and Leighton Roberts, set up Sharesies in 2017.
Two years on, Ms Roberts says Sharesies is going from strength to strength. "We started with seven founders, six of us full-time. We now have 24 staff and we're still growing. We have over 36,000 Kiwi investors who have invested over $38 million. What's great is a lot of that is money that probably wouldn't have been invested otherwise."
She says investment opportunities need to be shared a lot more. "That's why we created Sharesies – to make it really easy for people to get into investing, and to help them feel confident and motivated as investors."
The minimum investment is five dollars and the model has attracted a lot of first-time investors, who are learning about finance as they use Sharesies.
Study connections a boon
She says the connections she made while studying helped enormously. "The friendships that I made in my hostel and classes helped me personally but also professionally. I've now got friends in all different disciplines."
She also extends "massive thanks" to her Massey Business School lecturers, Professors David Tripe and Ben Marshall, as well as the international lecturers on sabbatical at Massey from whom she learned much.
Her advice for those starting out in the workforce is: "Be true to you – choose a career and company that really works for you and brings out your unique best self."
On receiving the award, Ms Roberts says she feels "humbled" and fortunate to be part of the Massey community and to be recognized.
Other Massey alumni to receive awards are Dr Dick Hubbard (ONZM) – Sir Geoffrey Peren Award; Dr Mahsa McCauley – Distinguished Service Award; and Kate Hawley – Distinguished Achievement Award. Profiles and videos on these recipients will be posted over the coming weeks.
The Massey University Defining Excellence Awards ceremony, scheduled for 26 March in Palmerston North, have had to be cancelled due to the COVID-19 pandemic.