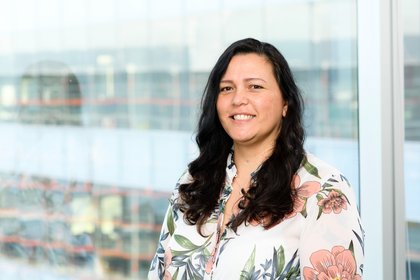 Last updated: Tuesday 5 July 2022
Associate Professor Pauline Harris, Rongomaiwahine, Ngāti Rakaipaaka and Ngāti Kahungunu ki Wairoa, has been appointed to the new position of MacDiarmid Institute Deputy Director Māori.
Announcing the appointment, MacDiarmid Institute Co-Directors Professors Nicola Gaston and Justin Hodgkiss say they were honoured and delighted Dr Harris has taken on the role.
Professor Gaston says Dr Harris had played a key role within the Institute since she joined in 2018, advising and directing the Institute on Te Ao Māori.
"Pauline already plays a critical role within the Institute. She leads our Mātauranga Māori Research Programme, and developed our successful Discovery Scholarship programme for undergraduate Māori and Pasifika students," she says.
Professor Hodgkiss acknowledged the significant part Dr Harris already played within the Institute as well as in many other organisations, and the expertise and connections she brought to the Institute.
"Pauline leads within the Institute all our engagement with Māori, including with our partners and friends at Whakarewarewa Village in Rotorua. She also played a central role in our successful rebid, bringing her connections and vision to the rebid planning and playing a key part in our presentation to the Royal Society CoRE selection panel in 2020," Professor Hodgkiss adds.
MacDiarmid Institute Governance Board Chair Hēmi Rolleston is excited about Dr Harris' appointment, and the skills and credibility in Te Ao Māori that she brought to the Institute.
"Pauline's appointment to this new role is a further signal of our pathway and commitment as an Institute to Te Ao Māori, with much more to come."
Dr Harris says she's looking forward to working with her colleagues in the Institute to increase the capacity and capability of Māori and Pacific peoples, and uplifting the capability of the Institute as a whole to engage with Māori communities.
"I want Māori and Pasifika peoples to be fully engaged in our research, aims and aspirations. This will be a team effort from the MacDiarmid Institute and I look forward to working within the Institute to fulfil this vision."
As Deputy Director Māori, Dr Harris will sit on the Institute's Governance Board as well as its Science Executive committee, and will also continue to lead the Institute's Mātauranga Māori Research Programme.
She will have responsibility for all Māori stakeholders and will work closely with the Deputy Director Commercialisation and Industry Engagement and the Deputy Director Outreach and Education to assist the Co-Directors and the MacDiarmid Institute to deliver the vision of the MacDiarmid Institute.
Dr Harris is an Associate Professor at Te Pūtahi-a-Toi – School of Māori Knowledge at Massey, and a Group Member of the Government's Matariki Advisory Group. She is also the Vision Mātauranga Theme Leader with Science for Technological Innovation (SfTI) National Science Challenge.
Dr Harris has a background in cosmology, neutrino astrophysics, microlensing and Māori astronomy. She has been the Chairperson of the Society of Māori Astronomy Research and Traditions (SMART) for more than ten years, where she applied her physics expertise to the collation and the revitalisation of Māori astronomical star lore.
You can read more about Dr Harris' research within the MacDiarmid Institute here.