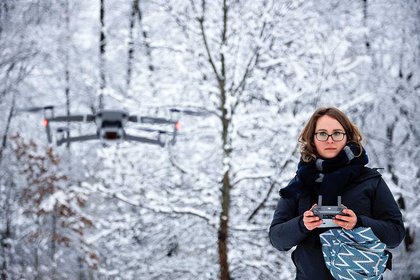 Last updated: Wednesday 6 April 2022
Geography, sociology, philosophy students and staff will swap lecture theatres for the wilderness this summer to use aerial and underwater drones for a film revealing land use, environmental issues and human-environment relationships in Aotearoa New Zealand.
They are seeking help from public and private landowners for access to forest, grassland (including tussock and pasture), cropland and wetland areas throughout the country. The Spatial Awareness Project will also include underwater footage to create a comprehensive look at the breadth of natural and cultural landscapes at a time when our much-lauded landscape is under pressure, says project leader Dr Cadey Korson. She is teaming up with colleagues – sociologist Dr Alice Beban and philosopher Dr Krushil Watene – in the College of Humanities and Social Sciences.
A lecturer of human geography in the School of People, Environment and Planning at Massey's Auckland campus, Dr Korson says the project will involve collecting aerial (drone) footage of the 12 different land use types across New Zealand. "We've had a few private landowners and companies agree to let us film. However, we could still use a number of alternative locations to showcase the beauty of this amazing country and its unique landscapes."
One of the key aims of the project is to encourage students' curiosity "about the human impact on the environment and create a learning community where students are empowered to critically engage in debates about conservation and land use," says Dr Korson. "Rapid urbanisation, intensifying natural hazards, climate change and exponential tourism growth are just a few of the catalysts that have an unassailable effect on natural and cultural landscapes."
The team aims to create a three-minute short film and a series of complimentary podcasts that will include interviews with industry partners, kaitiaki, land owners, environmental managers and community members about corresponding natural resource management issues and different ways of understanding and valuing the natural world. She hopes the project will demonstrate to Bachelor of Arts students; "the exciting possibilities and enrichment these new GIS (Geographic Information System) technologies are bringing to the study of geography, and the potential job opportunities for students who are learning how to use it."
The summer drone filming involves one to two hours of her team flying the Mavic 2 Pro about 75-100 metres over the plot of land. Landowners will receive a copy of the unedited aerial footage and be provided a link to the final video on YouTube. Filming begins mid-January in the South Island for a month, then the central and southern North Island in February and Northland in March.
Dr Korson wants to hear from anyone with access to sites across the country to be included in the project, including forest, grassland, cropland, wetland and settlements. "Within these are a number of sub-categories that we're hoping to include examples of – tussock, pasture, annual crops, vineyards and orchards, vegetated wetland and open water, neighbourhoods, infrastructure, beaches and dune land, glaciers, scree, scrublands." 
For further inquiries contact Dr Cadey Korson on E: C.Korson@massey.ac.nz