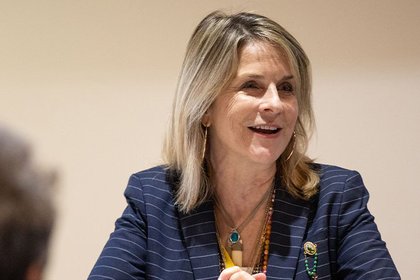 Leslie Carol Roberts from California College of the Arts (CCA) is currently in residence at Massey's Pukeahu campus in Wellington, as the visiting Professor of Creative Writing. Ms Roberts' research spans ecologies and climate action, forms of creative narrative, journalism, Antarctic poetics, environmental humanities and performance studies.
"Ecopoesis is the most important architectural project I've seen right now, and I get around. I hesitate to say, 'on the planet' because I don't know the whole planet, but now that I've hesitated let's say it: ECOPOESIS has planetary significance."

— Timothy Morton.
When Ms Roberts gets anxious about climate change, and she was early to that party, she meditates. And then she gathers people to eat, drink, and make some collective art and calls it ECOPOESIS. But how is this solving the climate crisis? Why use that weird word? Well, as she will tell you, strange times require a flexible mindset, one focused on evolving language, activism and community art towards survival.
Ms Roberts says the best way to understand ECOPOESIS is through the motto Paying radical attention to the more-than-human world.
"We have been very carefully schooled by large polluters to take on the mantle of blame. To feel ashamed of our behaviour, like naughty school children. That if we simply weren't such gross consumers, inventing awful things like plastic bags and straws, insisting on using extracted fuels to fire up our little cars, we would not be in this pickle. That it's up to us - now! - to enmesh our minds with consumer product and market-based solutions. That, my friends, is the big lie."
So she started thinking about how to build something that was free, inclusive, and aspired towards learning from traditional and indigenous ways of being alive.
She says she had to be careful who she told about her scheme.
"No one thinks it's weird to start a company making bamboo straws or toothbrushes or bar shampoo or mushroom-based clothing. All of those efforts are fantastic, by the way. Habits matter. However, habits are not the only thing that make us human. Designing new products is not the only way to survive. I wondered what would happen if we brought a kindness mindset without a product, other than making art together and learning from each other – not towards 'science' mind but sentient being. We want to re-imagine how to be sentient creatives in climate chaos. Oil companies hate that."
Next thing she knew, she was sitting down with her friend and colleague Adam Marcus at a Vietnamese restaurant in Oakland, California, one June evening in 2018.
"I asked him if he wanted to change the world with me. Adam is such a genius thought partner and really grounds conversations in 'next steps'. After all, he is an architect."
Mr Marcus said yes. Then they asked Chris Falliers, an architect and colleague at California College of the Arts to come on board.
Then they set to work. Ms Roberts began by calling her old pal Timothy Morton, an ecological thought leaders. She invited him to come and serve as the thought leader for the first ECOPOESIS gathering, slated for 2019 in San Francisco.
Leslie says Mr Morton was game. "He's a swell and playful thinker who is deeply kind and very easy to work with. I knew he would be the perfect human to begin with."
In 2019, Ms Roberts and Mr Marcus, joined by Chris Falliers, also a Bay Area architect, hosted 40 people over two and a half days in San Francisco. The group brought diverse professional and creative practices to the gathering, from fashion design to high theory to public land management. Working in three teams, each group was charged with thinking about a message for the ages, to be communicated in any form.
"What was remarkable was that while they groups were proximate, the messaging and the forms were entirely different," Ms Roberts says.
They ranged from a woven drawing that was burned symbolically in the garden, to a time-based piece that articulated how challenging timescale is in discussing climate change, to a large paper drape carefully cut with words stating all our actions leave a mark.
Mr Morton, who shared that he was averaging more than 300,000 miles a year on planes traveling to talk about climate change and art, had a deeply emotional response to the gathering. He was amazed by the potent way hand-making work collaboratively, while conversing and sharing meals, created a deep resonance.
After the event, many people asked Ms Roberts what had inspired the structure and content of the gathering, and then word got out. To date, Roberts and the ECOPO team have created ECOPOESIS events in The Maldives, the United States, Laos and soon New Zealand. She has lectured and published about the project in nine countries from Europe to the Middle East.
Ms Roberts has been thinking about ecological thought and how it manifests as performative eco-action since first traveling to Antarctica with Greenpeace. She lived with them for four months in and around Antarctica.
"This was the same time that NASA chief James Hansen was testifying before Congress, telling the world that there was a deep problem with carbon emissions rising. And we better all get organised and do something about it."
In the ensuing years, Ms Roberts was awarded a Master of Fine Arts in Creative Nonfiction and a Fulbright to come to New Zealand to research New Zealand's unique relationship with Antarctica. The book she researched here, The Entire Earth and Sky: Views on Antarctica continues to be taught and studied around the role museums and eco-activism play in how we tell stories of the wild. Her next book emerged from her walks in the national park where she lived in California, as a single mother of two sons.
Here Is Where I Walk: Episodes from a Life in the Forest ponders how we each have beloved ecologies that serve as tonic, as well as her wide-ranging travels from Italy to Tasmamia, walking varied landscapes and meeting inspiring colleagues.
When pandemic restrictions eased, her colleagues asked about her plans, and without hesitation she said she was going home to New Zealand.
"Richard Evelyn Byrd called New Zealand 'my second home' and indeed wrote a memoir with that title. I have been coming here as a journalist and a scholar since 1987. In addition to the deep love of ecologies and intense focus on more-than-human species' rights, as well as 'personhood' for the Whanganui, there's a New Zealand mentality that I miss deeply when I am in America. There's also the aspect that we don't have hokey pokey or curry pies on every corner."
Quite fortuitously, she met Associate Professor Elspeth Tilley during research for a chapter on Antarctic ecoactivism.
"I was getting my ass kicked by peer reviewers in the country that served as our former colonial overlord. I found this really dynamic scholar in Wellington, Elspeth, through her work and then reached out. I did not think I would hear back. Well, about 12 hours later, there was a long, thoughtful, super-helpful email from Elspeth that basically kicked open my thought about theoretical framing for my chapter. We became fast friends."
Elspeth and Roberts have collaborated on a number of talks and will be live and in-person at Massey University Wellington on 16 November.
"It really brought me to tears. When I stepped through customs at Wellington Airport, I did not dare believe it would actually happen, given the last three years. Yet here we are. I am so grateful to Elspeth and her colleagues at Massey for the warm welcome and look forward to making ECOPOESIS events around New Zealand."
More information about Ms Roberts' work on ECOPOESIS can be found here.
Wednesday 23 March 2022
After finding it challenging to locate resources on creative activism for her students, Associate Professor Elspeth Tilley decided to develop her own.