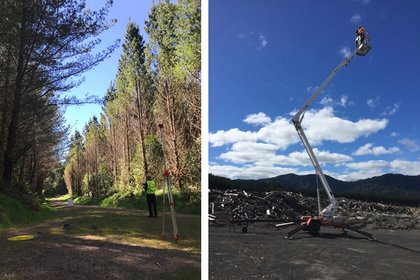 Last updated: Friday 25 November 2022
There are many applications of drones (or unmanned aerial vehicles – UAVs) within a forestry setting, including wildfire monitoring and suppression, wildlife research, flora and fauna conservation efforts, herbicide spraying, and seed capsule dropping. However, forest environments are notoriously difficult for flying drones due to the terrain, and aviation rules that restrict their range to areas in which the pilot is able to maintain visual line of sight of the craft.
A recently published article shows how many challenges facing forest researchers and practitioners can be overcome using Beyond Visual Line of Sight (BVLOS) drone operations.
School of Aviation Lecturer Dr Isaac Henderson is one of the article's authors, alongside Robin Hartley of Scion and Chris Jackson of Jackson UAS Limited. The article has been published in the journal Drones.
The article argues that to operate drones beyond visual line of sight could be a game-changer for helping monitor and manage both planted and indigenous forests. However, the ability to do so will also rely upon making risk-based arguments for how these operations can be done safely.
Dr Henderson says that currently the focus has been on technological solutions that may help to safely conduct such operations, not the operating procedures and policies that organisations need to follow to ensure they achieve a suitable level of safety.
"Aside from its contributions to forestry, this article also helps advance the importance of understanding airspace requirements, risk assessment, and human factor considerations related to fatigue, multi-crew operations, training and competency requirements, among others. In this sense, this article appears to be the first to make a holistic appraisal of BVLOS operations."
The article authors agree that it will be exciting to see what the near-future holds for BVLOS drone operations in this setting, and hope that the article is a solid first step in helping practitioners and researchers confidently stride into this space.
Dr Henderson says it was great to provide aviation expertise into a domain that was new to him, and that it should help the whole area advance over the next several years. "It is the first paper globally to bring together the forestry know-how, aviation know-how, and actual practitioner experience into a single article for use by practitioners and researchers."
Tuesday 15 February 2022
A study has found that users of unmanned aircraft need to take a more holistic approach to identifying and mitigating potential risks before undertaking a flight.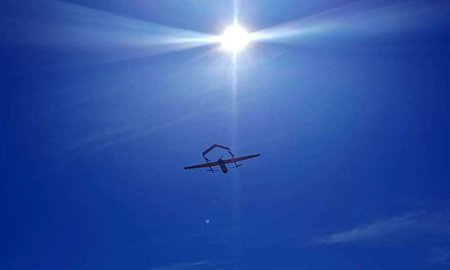 Wednesday 11 July 2018
School of Aviation assistant lecturer Isaac Henderson has always been fascinated by airships. His master's thesis analysed if they could again be used for transport.