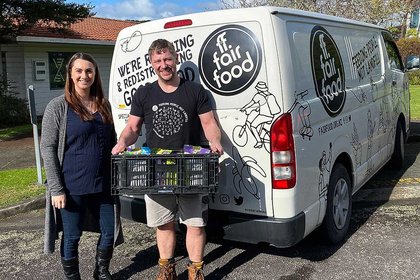 Last updated: Monday 21 March 2022
Fair Food Charitable Trust is excited to announce it's partnering with the New Zealand Food Awards this year, to salvage the surplus food following judging.
Last year, Fair Food was named the country's ultimate "food hero" at the awards, winning the Massey University Supreme Winner NZ Food Heroes Award, after transforming tonnes of surplus food from supermarkets – including 26,000 eggs – into fresh food parcels for thousands of people in need during lockdown.
Also winners of the Greater Good NZ Food Heroes Award, Fair Food was chosen as the Supreme Winner for "the way it demonstrated excellent team work and leadership in order to significantly upscale a food rescue and distribution service to provide food for over 20,000 people in need a week." 
Like Fair Food, the New Zealand Food Awards were forced to diversify in the wake of the pandemic, but the full awards programme is back this year, with a particular focus on innovation, sustainability and excellence.
Fair Food executive director Veronica Shale says, "We're super excited that the New Zealand Food Awards have committed to food rescue for judging week. Not only does this initiative promote our shared value around environmental sustainability, all this amazing surplus food will be distributed to people in need, delivering a fantastic outcome for our communities."
The COVID-19 pandemic brought about a huge awakening for the food rescue sector, she adds.
"Whether it's a pandemic, crisis, one-off food donation or if your business is working towards zero-waste, we can help recover surplus food and nourish our communities. We not only help the planet but provide a social impact for re-distribution of food partnering with frontline community agencies to reach people experiencing food insecurity."
Judging was held at Massey University's Auckland campus last week, with some of the industry's biggest names bringing technical, culinary, scientific, and commercial expertise to the judging panel. Renowned chef Peter Gordon ONZM has joined the Food Awards' whānau this year, alongside registered nutritionist Danijela Unkovich of Nourish & Tempt.
Head judge, Kay McMath, has been involved with the awards for more than a decade.
"With sustainability at top of mind, it's great to join forces with Fair Food Charitable Trust to ensure we have little food wastage after the 180 entries have been judged. All remaining products that are surplus to judging requirements will go to great use being redistributed to areas of need in the community."
Professor Sarah McLaren, sustainability judge and Professor of Life Cycle Management at Massey University, welcomed the food rescue. 
"Sustainability is a challenge faced around the world, and as a country built on primary industries, New Zealand has a huge part to play. The global challenges to sustaining our Earth require local innovative thinking. Therefore it was encouraging to see so many award entries that were able to tell us about the sustainability credentials of their products and organisations. And while the partnership with Fair Food is new territory for the Food Awards this year, I hope it will become the norm at events and across organisations in the coming years."
Finalists will be announced 18 August and the winners will be announced 14 October at the New Zealand Food Awards gala dinner in Palmerston North.