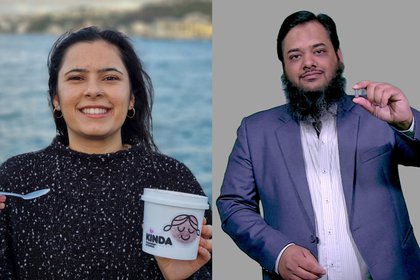 Last updated: Monday 29 August 2022
The awards celebrate the scientific discoveries being successfully commercialised within New Zealand's universities, Crown Research Institutes and other research organisations, and their impact on Aotearoa and beyond. This year the awards recognise 18 finalists whose passion and energy see them transforming their research into innovative new technologies and businesses.
Massey has a record four finalists in three categories: Mrinali Kumar and Muhammad Rehan in the Momentum Student Entrepreneur category, Dr Richard Winkworth in the Breakthrough Innovator category, and Magritek in the Commercialisation Impact category.
The 2022 winners will be announced at an evening reception on 6 October in Auckland.
Mrinali Kumar – Student and co-founder of Kinda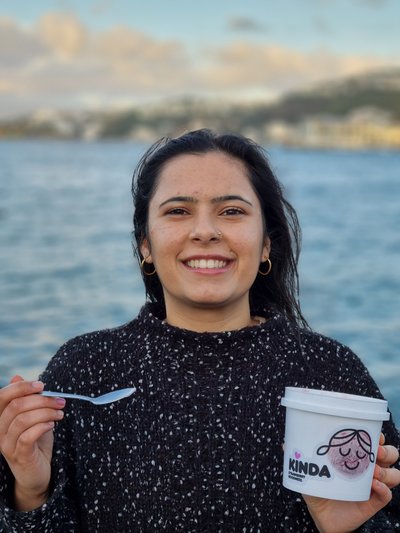 Mrinali Kumar is studying towards a Masters in Food Technology. She participated at Startup Weekend in Taranaki, where she met co-founder Jenni Matheson, who presented the idea of cauliflower-based ice cream. After the competition, Mrinali and Jenni decided to create Kinda, and turn a benchtop formulation into a commercial product.
Kinda makes animal-free foods taste better using science, technology, and kiwi ingenuity. The first product range to market is ice cream, using an ingredient that requires 93 per cent less land, 81 per cent less water, produces 84 per cent fewer greenhouse gases, and 53% per cent less nutrient runoff into the environment compared to dairy milk. Kinda ice cream has been created with an innovative formulation using cauliflower, which makes a creamier, dairy-like texture with higher melting stability than competitor products. Kinda doesn't like food waste, so they have partnered with social enterprise Perfectly Imperfect to utilise 'cosmetically imperfect' cauliflower and add value to local growers.
Kinda has seen a global opportunity within the plant-based space for New Zealand to lead in. It aims to develop alternatives to traditional animal products using New Zealand-grown ingredients, which will help diversify New Zealand's focus from dairy and meat to farming more sustainable crops, while also supporting growers and farmers. Follow @eatkinda on Facebook and Instagram for updates on the launch in summer 2022.
Mrinali is a finalist in the Momentum Student Entrepreneur category that recognises a New Zealand tertiary student who has made significant progress developing an idea that can change the world.
Muhammad Rehan - Student developing an ingestible robot for gut sampling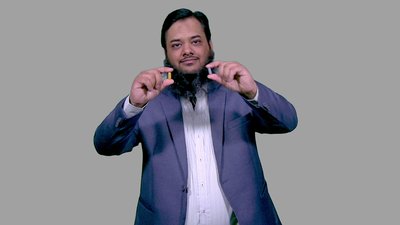 Muhammad Rehan, an electronic engineer and roboticist, is studying towards a PhD in Mechatronics Engineering. Rehan started his PhD in November 2018, intending to develop a tool for sampling gut microorganisms. These microorganisms can tell us a lot about nutrition and health and assist in the early diagnosis of diseases such as cancer, diabetes, and obesity. Rehan has since submitted his PhD thesis and is starting on an entrepreneurial journey with his pill-sized robot that has the potential to change the traditional methods of gut sampling by offering a better diagnosis.
This technology has transformed current passive capsule endoscope technology into smart robotic capsules capable of collecting gut samples to provide accurate biomarkers for the early diagnosis of diseases. Commercial development of this world-leading capsule technology by a New Zealand-based team will yield significant economic and health benefits. The robotic capsule, developed at Massey's Microrobotics Lab has the potential to become a vital apparatus for clinicians to sample human and animal guts in the future.
Muhammad is a finalist in the Momentum Student Entrepreneur category that recognises a highly motivated New Zealand tertiary student who has made significant progress developing an idea that can change the world.
Dr Richard Winkworth - Founder and Managing Director of Ampersand Technologies Ltd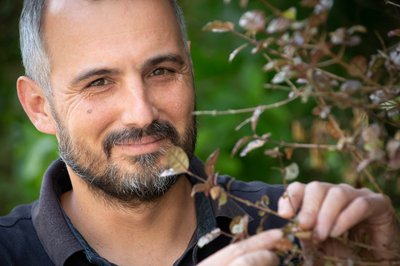 Dr Richard Winkworth is the Founder and Managing Director of Ampersand Technologies Ltd, a start-up creating the next generation of anywhere, anytime genetic diagnostics for applications in horticulture, agriculture and environmental monitoring.
Dr Winkworth's research, a collaboration with Professor Peter Lockhart, has explored the application of new DNA amplification technologies to genetic testing. Testing no longer needs to be expensive, time-consuming and performed in a lab. New approaches make tests that are cheap, rapid and portable a reality. Furthermore, testing at the point of need with results delivered in real-time is game-changing. This opens the door to applying genetic testing to a much wider range of targets and substantially improves our ability to predict, respond, and manage based on the results.
Dr Winkworth launched Ampersand Technologies in 2021, attracting significant investment from Matū and Massey Ventures Ltd. Ampersand offers custom genetic test design, end-to-end diagnostic solutions, and a testing service. Ampersand's current portfolio includes tests for kauri dieback and myrtle rust - both diseases threatening taonga species. Other tests are under development.
Results provided by Ampersand are already being used to inform decision making in the fight against kauri dieback. Their test is faster, more sensitive and more cost-effective than the standard assay. For the first time, surveillance and monitoring of the kauri dieback pathogen on the landscape-level and above is within reach.
Dr Winkworth is a finalist in the Breakthrough Innovator category that recognises a researcher who is embracing opportunities to commercialise their research.
Magritek - A spinout emerging from Massey University and Victoria University of Wellington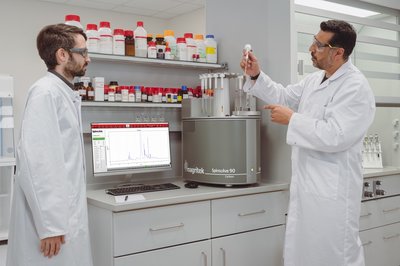 Magritek is a hugely successful business which grew out of decades of world-class research from teams at Massey University and Victoria University. Magritek was incorporated in 2004 to manufacture products based on Nuclear Magnetic Resonance (NMR) technology.
The original science team was comprised of five researchers, led by founder Sir Paul Callaghan.
Magritek's main product today is the Spinsolve Benchtop NMR Spectrometer, which measures the chemical structure of molecules, and is the globally leading product in a rapidly growing and competitive market. In addition, the company has developed a number of other solutions, including their initial product aimed at the tertiary education market, which in turn financed new product lines, including spectrometers, and smaller NMR devices for materials industries.
Magritek continues to follow a strong growth trajectory, successfully competing with and out-selling several large listed scientific instrumentation companies in this field. Magritek has a strong international focus, exporting its technology from Germany and New Zealand to customers all over the world.
Magritek is a finalist in the Commercialisation Impact category that recognises a project that has been commercialised and is delivering real world impact.
Read more about the awards here.
Friday 7 June 2019
Massey Ventures chief executive Mark Cleaver is a finalist in the Commercialisation Professional category of the annual Kiwi Innovation Network Research Commercialisation Awards.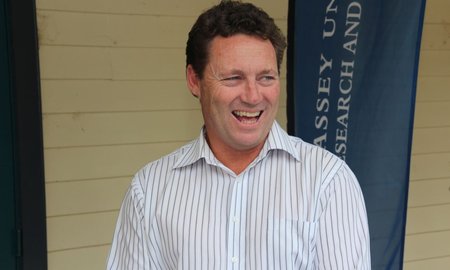 Wednesday 30 September 2020
Massey University has two finalists in the eighth annual KiwiNet Awards, who have been recognised for their contribution to advancing science through successful research commercialisation.
Friday 16 October 2020
A product that could help some of the 1.6 billion people globally who suffer iron deficiency has won a top award for Massey University scientists who developed it.