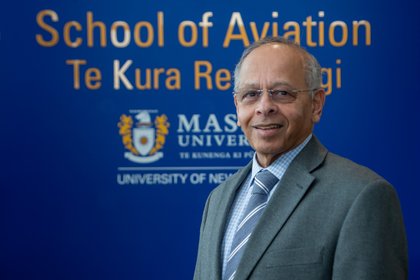 Last updated: Tuesday 29 August 2023
Aviation NZ is the main industry body for commercial aviation, representing more than 300 members and 1600 stakeholders who operate internationally and sell to more than 100 countries around the world, as well as Antarctica.
Its vision is to enable a safe, sustainable and resilient industry, and members include large companies like Air New Zealand to small owner-operated businesses, educational institutes, aircraft designers and manufacturers, maintenance repair and overhaul companies, unmanned aerial vehicle (drone) operators, emergency and medical services companies, helicopter companies and parts manufacturers.
Mr Poduval has represented Te Kunenga ki Pūrehuroa Massey University within the association for several years and says he is excited to be taking on the role.
"I am honoured that the members of Aviation NZ have expressed their confidence in me. These people are working across the spectrum of aviation activities, many of whom have kept their businesses afloat, driven by their passion for aviation, despite challenging and trying circumstances."
He says Aviation NZ's role is to act in the interests of its members by engaging with government organisations and working alongside the regulatory authorities to achieve its vision.
His new role also allows him to add value to Massey University's profile in the industry.
"We are the only university in the country that offers tertiary education in aviation, integrated flight training and professional training courses such as unmanned aerial vehicle (UAV) training and instructional teaching techniques courses. We have established an excellent reputation with our unique Bachelor of Aviation programme and as an industry leader in best practices in flight training delivery and aviation safety.
"We have been the leader in use of technology by acquiring the first full fleet of training aircraft with digital avionics, full fleet approval for satellite based navigation performance, use of iPads as electronic flight bags, and research projects, the latest project being the use of virtual reality."
Massey's School of Aviation has been an active member of the Training and Development division of Aviation NZ for the past 20 years and has represented Aviation NZ at various committees, working groups and forums held by the Civil Aviation Authority, New Zealand.
Friday 28 July 2023
The Massey 76 cohort have just celebrated getting their commercial pilot's licenses, also known as their 'Wings'.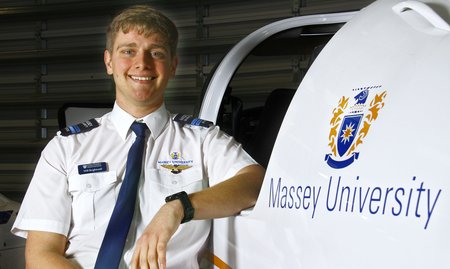 Tuesday 26 April 2022
Two School of Aviation representatives have been recognised at the recent New Zealand Aeronautical Trusts and Royal Aeronautical Society (RAeS) New Zealand Division Awards.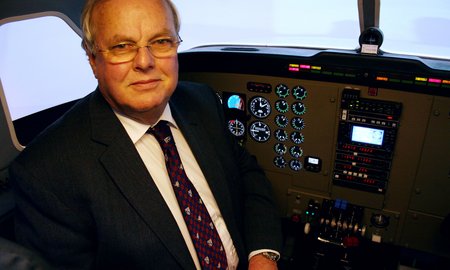 Friday 29 January 2021
The School opened its doors to welcome 31 students into their newest cohort of Bachelor of Aviation.