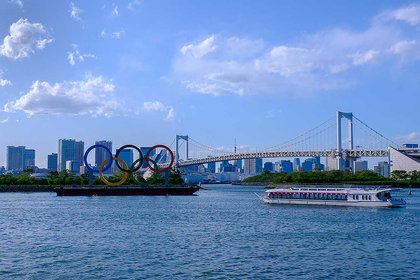 Last updated: Monday 21 March 2022
Massey University student Maddi Wesche has just returned home from the 2020 Tokyo Olympic Games. We caught up with her during her stay in MIQ, to hear all about her experiences in Tokyo.
Since finishing sixth in the women's shot-put final by throwing a personal best of 18.98 metres, the New Zealand-born Sāmoan has plenty to smile about.
"I still have the biggest smile on my face whenever I think about the competition," she says.
"My team and I have done so much planning around doing well in Tokyo and for it to actually come to fruition is still crazy to me."
Describing her personal best efforts in both the qualifier and the final as her Tokyo highlights, the 22 year-old says her biggest takeaway from the games was realising just how much she loves competing. 
"The thrill, the excitement, the nerves, butterflies and the atmosphere is just not something you can replicate anywhere else.
"To be able to be amongst the women that I've always seen on TV dominating women's shot put was so surreal. That's something I haven't quite wrapped my head around yet."
After a two week pre-camp in Saga, Japan, and not competing properly for 7-8 weeks before the games, Maddi credits her mindset and preparation going into the competition as one of the reasons she was so successful.
A lot of this, she says, came down to the privilege of being able to have one of her two coaches travel alongside her.
"We were out the back warming up just listening to music and laughing which I think definitely played a part in keeping me relaxed and calm."
A fierce competitor, Maddi says it was the individual aspect of athletics that drew her in at the beginning. Now, she loves everything about it. 
"The places I've been able to travel to, the people I've met along the way and the things I've been able to achieve due to doing shot put has been the greatest blessing.
"If I can help inspire others to find what I have in shot put, then that would be amazing."
Focused not only on life as an Olympic athlete, Maddi also balances her time competing and training with her study towards a Bachelor of Arts, majoring in Psychology. She even found herself frequently studying in Japan for an assignment that was due the day after she returned home.
"I made a plan before I went over for how I wanted to stagger my study days and allocate a time to study each day," she says.
"I'm pretty strict on myself when it comes to study. I absolutely love everything to do with psychology so that does make it a lot easier to pick up my textbooks, anywhere in the world," she said.
Currently finishing up the last week of lectures in MIQ, Maddi is looking forward to celebrating her success in Rarotonga where she plans to relax with family before heading into her next training block.
With 2022 consisting of the New Zealand domestic season, World Indoors, World Champs, Commonwealth Games and some potential Diamond League competitions, Maddi doesn't plan to spend too much time away from the sport she loves. 
"You can't keep me from throwing for too long, so I'll be bouncing in my chair to get back to training once I've finished my break," she says.