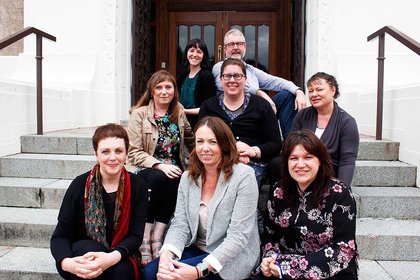 Last updated: Thursday 26 May 2022
Professor Lisa Emerson (front left) with Heather Lamond (Massey University Library), Dr Angela Feekery (School of Communication, Journalism and Marketing; (middle row) Senga White (Southland Boys High School), Dr Anne Macaskill (Victoria University), Catherine Doughty (Whitiraeia Polytechnic); (back row) Dr Anna Greenhow and Ken Kilpin (Massey University).
So much information! But how do students discern what they need to know, and what a reliable source is? Two Massey education researchers have been awarded nearly half a million dollars to lead a project that aims to help secondary school and tertiary students learn to make the best use of digital information.
The Teaching and Learning Research Initiative-funded project is led by Professor Lisa Emerson, Director of Teaching and Learning for the College of Humanities and Social Sciences, along with Mr Ken Kilpin (Institute of Education). The three-year project, titled Transforming information literacy space(s) to support student learning is one of six funded by the programme this year.
Professor Emerson, will help lead a team of researchers from five tertiary institutions and nine secondary schools, and says information literacy is fundamental human right to personal development, prosperity and freedom in the modern era. "We need to ensure our young people have the skills and insights to intelligently navigate the increasingly complex, and constantly evolving digital information space and to be able to sort and assess its quality and validity – for work, education, health and to be active citizens."
She says very little is known about how information literacy is taught across secondary and tertiary sectors in New Zealand. "The last study in schools was an ERO report conducted in 2005 and nothing is known about the outcomes of that study. So, our first year is about gathering information and collating a picture of information literacy in both the senior secondary and tertiary sectors in this country."
Over the next three years, the project will focus on developing partnerships with teachers and librarians in schools and tertiary institutions to integrate information literacy into the curriculum and to develop resources.
Information literacy is, she says, "the ability to identify information needs, locate and critique information, and then use it in a way that suits your needs. It has been identified by education leaders both nationally and internationally as essential to student achievement."
Quoting from the Alexandria Proclamation on Information Literacy and Lifelong Learning (released at a World Summit on the Information Society in 2005 in Alexandria, Egypt – the location of one of the world's greatest libraries founded in 332 BC), she says information literacy is "one of the beacons of the information society, illuminating the courses to development, prosperity and freedom."
Information literacy empowers people in all walks of life to seek, evaluate, use and create information effectively to achieve their personal, social, occupational and educational goals. It is a basic human right in a digital world and promotes social inclusion in all nations."
Professor Emerson says that in the past, information literacy "has been seen as the domain of the library and has been narrowly described as information searching."
In line with current scholarship her team is taking a broader approach, "involving the processes, strategies, skills, competencies, expertise and ways of thinking which enable individuals to engage with information to learn across a range of platforms, transform the known, and discover the unknown.
"Using this definition, Information Literacy becomes the responsibility of teachers and librarians working together to improve student learning."
Through her previous work Professor Emerson has been a strong advocate for bridge building between university and secondary school teaching staff, with a focus on enabling schoolteachers to prepare their students for the option of tertiary study. In this sphere, she led a two-year project involving conversations with secondary school teachers in low decile schools about how they can prepare their students for university culminated in a research report last year titled, Smoothing the path to transition.
The new project is in partnership with Southland Boys' High School (Invercargill); Aurora College (Invercargill); Central Southland College (Winton); Whanganui City College; Waitara College; Hato Pāora College (Feilding); Bay of Islands College (Kawakawa); Whitireia Polytechnic (Porirua); Wellington Institute of Technology; Eastern Institute of Technology (Napier); Victoria University of Wellington.
Bios:
Professor Lisa Emerson's career has been characterised by her interest in and commitment to teaching. She was a winner of the Prime Minister's Award for Sustained Excellence in Tertiary teaching (2008), and her teaching philosophy is discussed in Iain Hay's Inspiring Academics: Learning with the World's Great University Teachers (2011, OUP). Her research on pedagogy includes work on literacy in students transitioning from the secondary school to the tertiary sectors. Her investigations into the development of scientific writers have been described as a significant bridge between the sciences and the humanities. She is a senior fellow of the Higher Education Academy in Britain, a Fulbright Senior Scholar (2013), and has represented the Ako Aotearoa Academy on the selection committee for the national teaching awards.
Mr Ken Kilpin comes to this research project via a 35-year career in education initially in the secondary school sector and then in adult education as a pre-service secondary teacher educator. He has participated in national secondary school literacy professional development projects and, with Professor Emerson, in a project focusing on literacy transitions from senior high school to tertiary learning. He has co-authored articles in these areas for New Zealand journals.