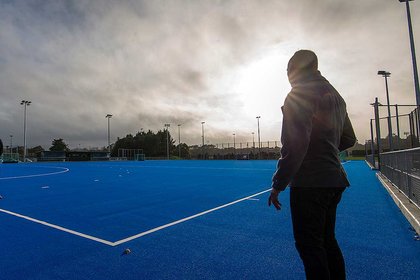 Last updated: Tuesday 22 March 2022
Massey University's state-of-the-art turf is set to host the Black Sticks and their Australian counterparts in the newly announced tans-Tasman hockey series; the first international games for both teams in 14 months. 
With the trans-Tasman bubble recently announced many sports fans were eager to see if this meant more international competitions and hockey fans were not left disappointed as this series was promptly organised. 
Hockey NZ Chief Executive Anthony Crummy said, "it's great to see the willingness from both countries to do what it takes to make this series happen so quickly." 
The series, starting on 27 May and running until 2 June, will have the men's and women's teams play four tests each as they start to rev up for the Tokyo Olympics. 
All four squads, the men's and women's Black Sticks and the Australian Hockeyroos and Kookaburras are bringing approximately 22 players to the series as they look to select their Olympic teams. 
"Given the unfortunate 14-month hiatus in international hockey for both teams, this series will be vital as both a selection event and in our final preparations for Tokyo" Mr Crummy says. 
Not only will they be testing out the opposition in the series, but it gives both teams the chance to play on the same turf as will be used in the Tokyo Olympics. 
One of the reasons Massey University's Manawatū campus was selected for this series was the new turf finished in 2020 will give players a great insight to how the turf changes the game. 
Massey Sport Advancement Manager Jacob Oram says it's great to see international sport return to New Zealand and more specifically Palmerston North. 
"This is the first international hockey in the Manawatū since 2014 and it's fantastic to see it back here and playing on Massey's world class facilities." 
This is the first major hockey series at the senior level to use the new turf, after hosting club and school hockey last winter, as well as a secondary school's tournament in September. 
All tests will be televised live on Sky Sport, in preparation for the games the Massey turf will now be decked out with camera scaffolding, a commentary box, turf signage, perimeter fencing, portable stands, ticket booths and marquees. 
Tickets can be purchased through the Blacksticks website here with kids under 16 free. 
Trans-Tasman series 
Thursday May 27, Friday May 28, Sunday May 30 and Tuesday June 1. 
Massey University turf, Palmerston North 
Match times: 5.30pm and 7.30pm on Thursday, Friday and Tuesday, 1pm and 3pm on Sunday.