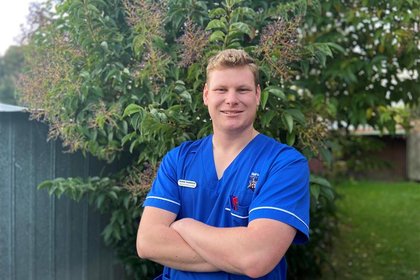 Last updated: Tuesday 22 March 2022
It's International Nurses Day and we want to say a massive thank you to all the nurses out there and the contribution they make every day to keep us safe – often at risk to their own health and hauora.
George Truebridge graduated with a Bachelor of Nursing in Manawatū last week. We spoke with George to get some insight into what it means to be a nurse and what's next for him career wise after graduating.
What does being a nurse mean to you?
Nursing was never my first choice for a career, but when the opportunity came and I raised the idea to myself, something sat right with me. It was the care, support, and relationships that I could provide people. To me, it's giving people the opportunity to improve themselves so that they can improve their own people, family, and community around them. 
My philosophy in nursing is that in order to provide meaningful care for people, we must build meaningful relationships and understand the person as a whole, what are their core values, what does health mean to them? It is sometimes easy to assume how health issues come about, but no doubt there are wider issues in someone's life at the core of the problem.
Why did you choose to study at Massey?
Well for one it was the amazing campus in the Manawatu. It was such a nice place to study and walk around when I was heading to classes. Secondly, the entrepreneurial spirit and passion to make sure students get the best out of their study, really attracted me to Massey. The lecturers and staff are so driven which had a massive flow on effect for me.
Why did you choose Nursing?
Originally I wanted to do marine biology, but then I realised that a lot of community work I did throughout high school involved helping people and making their lives better. So, I put my love for working with people and biology together and decided that I wanted to become a nurse and I'm very happy with my decision.
When did you know you wanted to study Nursing?
I knew only a few months before I enrolled with Massey. I think the experiences that I had the privilege of having before university naturally channelled me into becoming a nurse. It was a hard decision, nursing is more than just a job, it's a lifestyle, but if I can continue to change and save lives so that my patients have the ability to change themselves, then this is the career for me. 
What are your career goals?
Ultimately my goal is to become a Nurse Practitioner. But what I really want to do with my career is be able to care for and educate people about their own health and the health of others and their communities. I would love to do some relief work overseas, particularly Africa, where I can truly experience how the things that we may take for granted can mean so much to others.
What's next for you?
Right now, I'll continue my work at Palmerston North Hospital in the orthopaedic surgical ward. Gaining a good foundational knowledge and skillset from a public hospital setting will set me up well for my ambitions in the future. New graduate nurses go through so much stress moving into the nursing work force, no matter how prepared we are. For me, I'd rather build good skills and relationships now so I know I can give the best care possible.
Thanks George, we wish you all the best for your future.