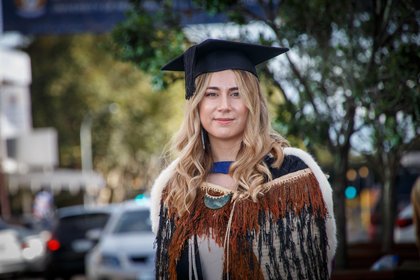 Last updated: Thursday 18 May 2023
Waiata says it still feels unreal that she's finished and is now working as a fully-fledged veterinarian.
"I was overwhelmingly relieved and glad when I found out I had passed – the happy tears would not stop! I didn't get in the first time, which meant I had an extra year of study, so the feeling of knowing I've accomplished six years of study through trials and tribulations is indescribable."
She says she struggled with feelings of imposter syndrome when she first started the degree.
"I was the only Māori student that I was aware of in my cohort and got in the second time around, so finally graduating has reassured me that I always belonged in veterinary school and in the profession."
Waiata was raised in Kerikeri until the age of 10, before moving to Tāmaki Makaurau Auckland and attending Orewa College. Her parents moved to Te Teko in the Bay of Plenty in year 12, so she did a year at Hamilton Girls' High School before moving back to Orewa College for her final year.
During her time at Massey she says she learnt that resilience is essential in the veterinary profession.
"I learnt that many challenges, not only clinically but also emotionally, professionally, culturally and mentally, are going to be thrown my way as a veterinarian and to be strong in the face of these obstacles."
In her fourth year of study, Waiata was named the inaugural recipient of the Hamza Mustafa Scholarship, a bursary in honour of Hamza Mustafa who was killed in the Christchurch mosque attack in 2019. Sixteen-year-old Hamza had aspirations of becoming a veterinarian.
"Having been the first recipient of the scholarship and getting to meet his wonderful family, I was inspired by their warmth and learned the importance of compassion and strength in the face of adversity."
She also discovered how important it was to maintain a balance between work and life. To provide that much-needed balance, she played hockey, attended the gym and went on hikes with friends.
Waiata says her favourite paper of the degree was veterinary pathology.
"It was taught exceedingly well and all the lecturers were very helpful in the face of an overwhelming amount of diseases and interpretations to learn. During my final rotation at the Massey Veterinary Teaching Hospital with the internal medicine department, I was inspired by the work the team were doing. One particular case I was working on with Immune-Mediated Haemolytic Anaemia [IMHA] was pivotal in me wanting to pursue a small animal multi-disciplinary internship."
During the second half of her degree, the Veterinary Māori and Pacific (VetMAP) student pathway was established. This pathway is open to domestic students of Māori or indigenous Pacific descent who are applying for the Bachelor of Veterinary Science (BVSc) degree.
Waiata says this made her realise this was a missing piece in the profession.
"It made me fully appreciate how important it is to ensure more Māori and Pasifika have a place in the veterinary profession."
She credits Professor Eloise Jillings, Professor Chris Riley, Professor Christine Kennedy and VetMAP Coordinators Pauline Seymour and Ngāwari Matthews-Carr as being especially supportive throughout her time at the university. She says a number of these staff members helped her to recognise the importance of indigenous voices in research and the profession, and the empowerment of being Māori in academia.
During the graduation ceremony, Waiata was presented with her great great grandfather's plaque, George MacDonald M.R.V.C.S by the daughter of Mr MacDonald, Waiata's nanny Kathleen MacDonald Geddes. The presentation was in honour of Waiata being the first descendant of Mr MacDonald to follow in his footsteps and recognises the whānau's Scottish ancestry.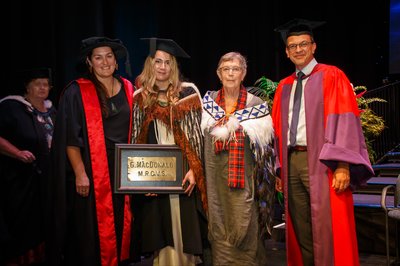 Mr MacDonald graduated in veterinary studies in 1929 at Edinburgh University. He emigrated to Aotearoa New Zealand in 1935 and at one stage was chair of the Veterinary Services Council.
In March this year, 24-year-old Waiata moved across the ditch to pursue a multi-disciplinary rotating small animal internship at the University of Sydney, in the hopes of eventually pursuing a residency. She is considering being an emergency veterinarian to save up finances for the three-year residency programme.
"The two specialties I am interested in pursuing are either small animal internal medicine or imaging. By the end of this internship I hope to decide on one of these departments to pursue. My end goal will always be to return to Aotearoa and also to pursue further research in Māori and indigenous cultures in relation to animals and veterinary science."
Friday 27 August 2021
Fourth-year veterinary science student Waiata Geddes has become the first recipient of the Hamza Mustafa Memorial Bursary. The bursary honours the memory of year-12 student Hamza Mustafa, who was killed in the Christchurch Mosque shooting in 2019. Hamza had aspirations of becoming a veterinarian.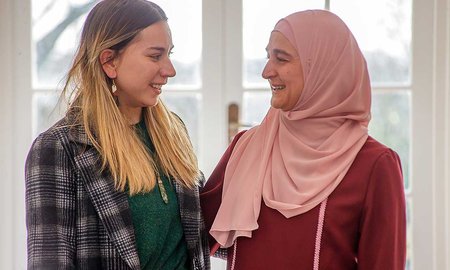 Wednesday 23 November 2022
For most people, completing their first degree is hard enough as it is, but Suraya Goss, Te Ātihaunui-a-Pāpārangi, took on the added challenge of completing her entire qualification in te reo Māori.