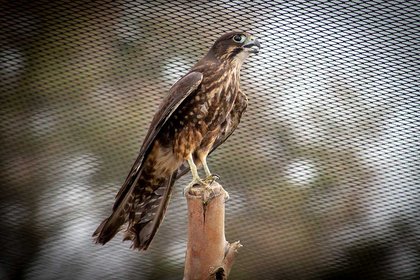 Last updated: Thursday 19 May 2022
A kārearea, New Zealand's native falcon, is ready to return to the wild after three months in hospital and rehabilitation.
The juvenile falcon was brought to Massey University's Wildbase Hospital by a veterinarian from Totally Vets in Feilding on June 27.
Wildbase Hospital wildlife technician Pauline Nijman says the bird had clear signs of trauma."She had blood around the beak and in the mouth, but she was feisty and active, so that was a really good sign for us. The next day, we gave her an anaesthetic and radiographed her to show us the extent of the injuries. She was found to have a fractured lower leg bone [tarsometatarsus]. After the fracture was found to be misaligned, a veterinarian realigned the bone and set it with a splint," she says.
"During her stay in hospital she ate really well and put on weight, so we were very happy with her progress and no further complications arose. However, the point of fracture developed a large bony scar tissue and the bird's strength and dexterity had suffered due to the injury. This meant that rehabilitation was needed."
Long road to recovery
The bird was sent to Central Energy Trust Wildbase Recovery on July 21 and was put inside the Raptor Aviary, one of the public facing portions of the facility. 
"Wildbase Recovery was built for these birds to be able to recover," Ms Nijman says. "Freeing up needed space within the hospital. It was really special to be able to allow people to see her in the aviary while we kept a close eye on the progress of her leg and her weatherproofing."
Keeping wild animals wild
"During her stay, we wanted to encourage her to test out her injured leg without interfering with her too much,"Nijman says. "So we made some clever adjustments to her environment and watched her grapple with the challenges via video link. This included putting food on thinner branches and watching her to assess her strength and dexterity. Two months into rehabilitation it was decided that the leg was good enough for her to be released."
The release took place at Reid Line in Feilding, close to the spot she was found. It was covered by veteran radio presenter and host of Mike West in the Morning, Mike West.