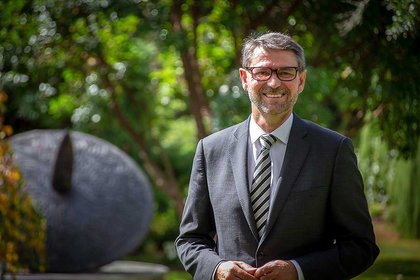 Last updated: Friday 25 November 2022
Mr Morriss passed away in July 2020, shortly after retiring from Massey on medical grounds.
His journey with Massey spanned the entirety of university endeavours from student learner, to academic faculty, to professional service and university-wide leadership. His influence and mahi touched all campuses, sites and holdings, staff and students, within New Zealand and around the world.
Mr Morriss was well known and recognised for his stewardship and advocacy for Massey both internally with governance, management, staff and students and externally with stakeholders throughout New Zealand and around the world.
Former Deputy Vice-Chancellor, People and Culture Alan Davis nominated Mr Morriss for the medal, in acknowledgement of his outstanding contribution to Massey and to honour his legacy to the institution.
"Stuart was a proud advocate for Massey – a kaitiaki of whom Massey can be immensely proud and privileged to have had dedicate his life and career to us. I speak for many of us when I say we miss him greatly. His passion and enthusiasm for the university was infectious.
"Stuart exemplified the best of us and reflected the essence of what we seek Massey and its people to be. To acknowledge Stuart posthumously with a Massey Medal not only appropriately acknowledges his contribution to Massey, but also serves as a guiding light for the aspirations of who we seek to be, and how we seek to reflect the university, its values and ethos. It is a rare thing, but in Stuart we found a person who encapsulated all of these things.
"A university's reputation is built on the quality of the contributions of its people. It is also measured by the mana of the individuals who stand, speak and act in advocacy, representation, and kaitiaki of the university. Let this Medal stand for Stuart, as Stuart stood for Massey University."
Vice-Chancellor Professor Jan Thomas says, "Stuart's leadership and legacy are felt today and we will forever be grateful for his contribution around the Senior Leadership table. Stuart was balanced, insightful, knowledgeable and fair, but overwhelmingly our memories of Stuart are as a 'Massey Man'."
Mr Morriss joined Massey in 1996 as a Senior Lecturer in the Institute of Natural Sciences. He went on to hold various roles, including Director of Massey Agriculture and Programme Director for Applied Science. Mr Morriss was part of the Senior Leadership Team from 2006 until 2020. A graduate of Massey, he held a Bachelor of Agricultural Science and Diploma of Business Studies. He also graduated from Victoria University with a Master in Public Policy (Distinction).
The Massey University Medal was awarded at the College of Sciences graduation ceremony in Palmerston North on Thursday 24 November.
Friday 29 July 2022
Earlier this week, Vice-Chancellor Professor Jan Thomas signed a renewed Memorandum of Understanding (MOU) between the prestigious Peking University and all eight New Zealand Universities, in her role as Chair of Universities New Zealand – Te Pōkai Tara.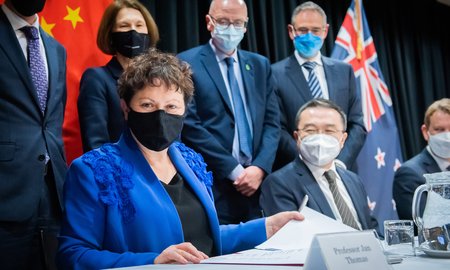 Tuesday 28 July 2020
Massey University today confirmed that Deputy Vice-Chancellor Global Engagement Stuart Morriss has passed away after recently becoming unwell and retiring from the University on medical grounds.