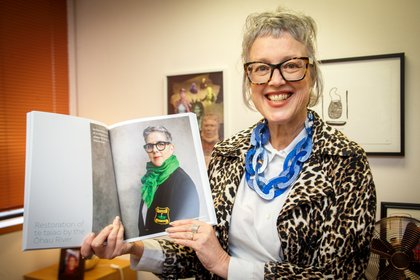 Rangahau: Research at Massey, first published in 2016, profiles and celebrates the breadth and impact of research underway at Te Kunenga ki Pūrehuroa Massey University. Provost Professor Giselle Byrnes has led the Rangahau series, which is published by Massey University Press and features the photography of Jane Ussher, one of Aotearoa New Zealand's foremost documentary and portrait photographers.
"Choosing the theme for this edition was simple - not only do our researchers have wonderful stories to share, they are also making meaningful and positive contributions to our communities in ways that clearly align with and are inspired by the United Nations' Sustainable Development Goals," Professor Byrnes says.
A matrix of 17 interlinked global objectives, the SDGs provide a blueprint towards achieving a better and more sustainable future. Established in 2015 by the United Nations General Assembly, the SDGs are intended to be achieved by 2030.
"As part of our University Strategy 2022–2027, we are maintaining our strong focus on supporting our world-leading areas of research that align with and support the United Nations' SDGs, alongside ensuring that we are operating in environmentally sustainable ways that support our ambition to be carbon neutral by 2030. Massey values sustainability as one of the key commitments that will guide our future development, grounded in the foundational promise of Te Tiriti o Waitangi," Professor Byrnes says.
"We pride ourselves on the importance we place on research both as a driver of new knowledge and as a means by which to improve lives, lift social and economic wellbeing and nurture and care for our environments. Our natural resources are finite, and we need to look after them."
Professor Byrnes says the critical role of university-based research and expert advice has been highlighted during the COVID-19 pandemic.
"Over the past two years, university researchers have provided invaluable advice to government and the public alike on how to navigate and understand the uncertainty of our present world. University-based academics, in their dual role as researchers and teachers, play a vital role in making our environment more resilient through education, the application of research and the creation of new knowledge. Partnering with and learning from the communities we serve is a critical part of our focus on research impact and translation. In an era where evidence-based research and rational thinking are frequently dismissed as 'fake news' or 'alternative facts', we need our experts now more than ever."
Rangahau: Research at Massey will be widely available in print and online formats. The publication has been shared with Massey's extensive stakeholder network, including research funding bodies, Members of Parliament, industry leaders, media, community leaders and further afield.
Order your free copy of Rangahau: Research at Massey here – postage fees apply.