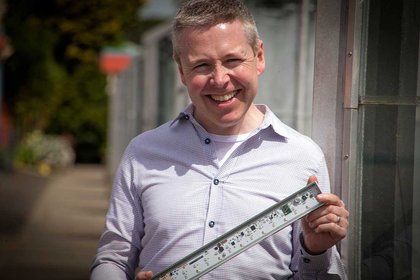 Last updated: Tuesday 9 August 2022
Massey University spinout company BioLumic has secured a US$5 million (NZ $6.9 million) investment for their work developing products to support food growers around the globe using ultraviolet (UV) light.
Founded by Massey's Associate Professor Jason Wargent in 2012, building on Dr Wargent's many years of research into UV/plant interactions, the company focuses on applying UV light treatments to seedlings and seeds that deliver long-term crop benefits, including improved crop consistency, increased yield and disease resistance. 
The technology is in commercial trials for high-value produce crops around the globe, working with growers and processors in Mexico, Spain and the United Kingdom with yield gains of up to 22 per cent.
This significant round of financial backing will allow expansion into more crop treatments and markets around the globe and comes from leading global AgTech investors Finistere Ventures and Radicle Growth acceleration fund, along with Rabobank's recently-launched Food and Agri Innovation Fund and existing investors from across New Zealand.
BioLumic chief executive officer Warren Bebb says, "Light is an extremely powerful biological tool that can safely manipulate plants without the concerns associated with genetic modification or chemical usage. BioLumic is the only company using light as an ag treatment at the beginning of a plant's life.
"Exposure to a short-duration treatment of UV-enriched light at a critical stage in a plant's development turns on characteristics to help the seed or seedling more effectively defend itself against disease or pest attacks, and more efficiently use water and nutrients for the soil for its entire lifespan."
The investment will be used to aggressively expand the BioLumic team in both New Zealand and further develop its American office in California, and to intensify the global deployment of its UV technologies. It will also be used to accelerate the development and commercialisation of its seed-focused technology, expanding into row crop and vegetable seeds, as well as the original focus on lettuce, broccoli, strawberry and tomato seedlings.