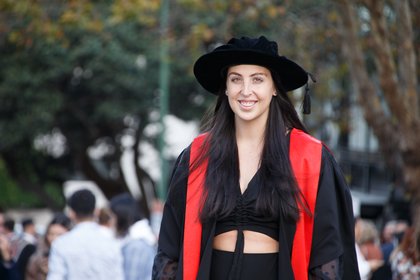 Last updated: Tuesday 7 June 2022
Examining how sport organisations and fans engage with live streaming on social media was the focus of Dr Sarah Wymer's PhD thesis, who sought to understand why and how the Queensland Maroons Rugby League team used Facebook Live during major events and how fans were engaging with this content.
From this research, Sarah developed a conceptual model which provided sport organisations a useful tool on understanding how fans engage with different types of content like behind the scenes, events and interviews shared through live streaming.
Sarah says there is a need for this model because there is limited strategy or purpose behind live streaming.
"A lot of sport organisations just 'go live' because everyone else is doing it. It can be difficult to justify and meet strategic objectives without purpose behind social media and therefore can mean social media live streaming is not sustainable."
Sarah's Massey journey began with a Postgraduate Diploma in Sport Management via distance while working in Canberra.
"I moved back to New Zealand to take on a Sport and Recreation Coordinator role at Massey University. Following graduation, I really enjoyed the experience at Massey, and enquired about a Masters in Sport Management. Things didn't quite fall into place, and I moved to Australia. In 2017, I had just had a baby and was on maternity leave and found myself with some 'free time'. So, I enrolled in a Masters in Sport Management by thesis with Professor Andy Martin who I worked with during my Postgraduate Diploma.
"My Masters grew quickly and I presented at two conferences and engaged in the Sport Management academic community. I received feedback that it was a great topic but was more like a PhD. With Professor Martin's encouragement, I applied to transfer my Masters thesis into a PhD and completed it within three years alongside full-time work and two kids."
Like a lot of graduates, Sarah's graduation has been delayed due to border closures keeping her in Australia. However, this hasn't slowed her down.
"I have worked at seven different universities across Australia for the past two years, managing multiple research and lecturer positions both online and in-person. I really enjoy teaching and love the engagement in the classroom, sharing my passion for sport marketing, event management and sport management."
Her graduation is not the only milestone taking place on this trip home to Aotearoa. She is also getting married the Saturday after her graduation.
"We have had the borders closed for so long, we are making the most of being in New Zealand and having a casual (but large and growing) celebration while we are home."
Sarah says it can be a real challenge to manage seven work contracts and three kids.
"But I am passionate about what I do, and I hope the girls are able to find an area of interest when they are older that excites them as much as the sport industry does for me!"
Thursday 26 May 2022
Three Massey staff members have been conferred with doctoral degrees among the more than 1300 graduates across the five Auckland ceremonies and celebrations this week.