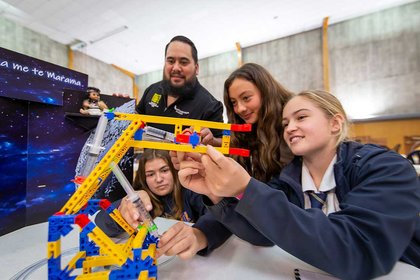 Last updated: Thursday 19 May 2022
A Māori academy is using challenges inspired by Māori pūrākau (legends) to help encourage young Māori to engage in science subjects.
Āmua Ao Engineering Young Māori Minds, run by Massey University's Pūhoro STEM (science, technology, engineering and mathematics) Academy, involved over 150 year nine and 10 students at Palmerston North's IPU New Zealand campus.
Students competed across six challenges, each tied to different pūrākau. One was called Māui me te Rā, whichPūhoro kaihautū Leland Ruwhiu says draws inspiration from a battle between Māui and Tamanui-te-rā (the sun).
"In the same way that Māui and his brothers slowed Tamanui-te-rā to create longer and more regular days, we are asking groups to work together to construct a marble run that would slow the journey of the marble to land at the bottom at specific times."
Other challenges included creating a body sculpture, drawing upon the sons of Ranginui coming together with Tāne to fashion Hineahuone, the first woman. Another involves creating a piston hydraulic arm that is capable of grasping a figurine and lifting it to a nearby platform. It draws upon how Rona became Rona-whakamau-tai or Rona-the controller-of-tides, after she offended Mārama (the moon) and was picked up and carried to the skies.
Awatapu College were named the challenge winners.
The day was part of the Āmua Ao programme, an initiative to raise Māori participation and achievement in the areas of science, technology, engineering and maths, led by the New Zealand Qualifications Authority and Pūhoro.
Last year, the programme ran two bilingual science and engineering challenges for year nine and 10 Māori students in Palmerston North and South Auckland. Supported by the University of Newcastle in Sydney, each challenge included a range of interactive activities that focused on inspiring students to consider a future career in science and technology.
Mr Ruwhiu says many of the students involved in those challenges have now gone on to join the academy.
"Generally science is compulsory up to year 11 and if students don't connect well and succeed during this time, it becomes difficult for them to see science as a senior subject destination. This has a flow-on effect and essentially robs the STEM sector of diverse indigenous perspectives and input.
"For many young Māori it is hard for them to see themselves as future STEM leaders and the role their culture will play in their careers. This event has been designed to make that connection more apparent. From an outsider looking in, they might see these stories as fanciful and not applicable to fundamental sciences, but there is power in our pūrākau and we wanted to make these the sticking points for science and technology concepts in their minds."
"Their connection to their culture should be something they see as helping them to stand out in science and their future study and careers. To know their whakapapa, who they are, where they come from, and their limitless potential as ngā īhorei ō āpōpō – tomorrows leaders."
About Pūhoro
The academy started in 2016, providing a wrap-around support programme for 97 Māori secondary school pupils in the wider Manawatū area. Within a year, pupils who had not been on an academic pathway previously were exceeding expectations by passing the National Certificate of Educational Achievement at rates higher than the national average. Three years later, the Manawatū-based programme is the most comprehensive indigenous STEM programme in the world. It has spread to Horowhenua, Bay of Plenty, Kāpiti and Auckland, with 439 pupils across years 11-13.