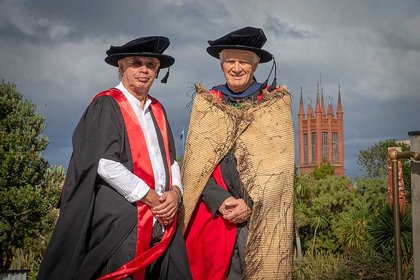 Last updated: Wednesday 24 August 2022
More than 50 years of service to Māori visual art was acknowledged when artist Sandy Adsett was conferred with an honorary doctorate at graduation ceremonies in Palmerston North today.
Mr Adsett, Ngati Pahauwera, graduated with a Master of Māori Visual Arts (MVMA) from Massey University in 2006.
Trained as an arts specialist for the Department of Education's Advisory service, he was involved in the implementation of a new Māori Arts focus being introduced into the 1961 schools art syllabus.
In 1993 he was appointed principal tutor at Tairawhiti Polytechnic in Gisborne, developing a wananga approach for a more contemporary style of Maori arts programme for Toihoukura School of Maori Visual Arts. He returned to his Ngati Kahungunu roots in 2002, setting up the Toimairangi School of Māori Visual Culture within Te Wananga o Aotearoa in Hastings.
Throughout, and fuelled by Māori renaissance of the 1980s that was happening on marae, within the community and in art galleries, his own creative practice remained firmly focussed on attending and retaining the art images of his culture.
Described as a true exponent of merging the traditional with contemporary overlays, he is particularly influenced by the design of kowhaiwhai – rafter patterns, with his intricate layers of flat acrylic on board immediately recognisable to arts enthusiasts.
Mr Adsett was made a Member of the New Zealand Order of Merit for his services to art in 2005 – the year before his own MMVA graduation from Massey University.
"The requirements of the MMVA in having to engage in historical research, two solo exhibitions and documentations were the challenges that attracted me to the course. Things that I might never have otherwise done," he says. He completed the course under the tutelage of Professor of Maori Visual Arts Bob Jahnke. A close friend of Mr Adsett's from his boarding school days at Te Aute College, is former Massey University Deputy Vice-Chancellor Professor Emeritus Sir Mason Durie.
Mr Adsett sees the honorary doctorate in Fine Arts as recognition to the many who have supported him in his work and studies.
"To me the doctorate also shows that Massey University positively acknowledges the importance of cultural arts identity in Aotearoa by offering programmes like the Master of Māori Visual Arts, one of our highest forms of academic achievement in Māori visual art. I respect that."
While he respects all forms of artistic discipline, nearing age 80 there is one he remains passionate about. "Definitely painting. I like being confronted with the challenges that Maori compositions, design and colour still gives me".
Currently teaching an art degree in Māori visual art at Te Wananaga o Aotearoa, he will be considering a time when he will hang up his own paintbrush.
"However, I'm enjoying teaching. So, while the energy is still there, and students continue to respond positively, we will see.
But I do look forward to spending more time in my own studio "
Click here to watch a live stream of each graduation ceremony.