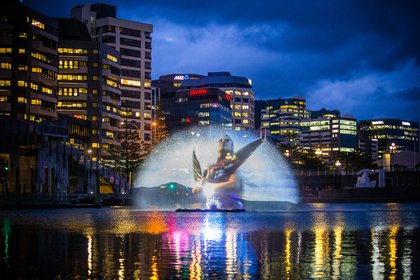 Last updated: Thursday 30 June 2022
The event showcases collaborative short art films addressing the kaupapa of Mana Moana – the drive to address climate change and reduce greenhouse gas emissions. The event is led by co-curators from Toi Rauwhārangi College of Creative Arts Associate Professor Rachael Rakena and Mike Bridgman, alongside Rob Appierdo and Andrew Croot from Wellington production company Storybox. A number of Massey staff and alumni and other senior Māori and Pacific creatives are involved as collaborating artists.
Associate Professor Rakena says this is the fourth year of creating new artworks and showcasing Mana Moana during Matariki. "We believe the Matariki season is an ideal time to reflect on our indigenous narratives and relationships, both across and with our moana, as we consider our future actions with regard to our ocean, our climate, our environment, and our communities."
The Wellington showcase will be screened on Whairepo Lagoon in Wellington Harbour from 30 June to 4 July, between 6pm-9pm. The programme for this event will include the Mana Moana – Pacific Voices collection by Special Curator Dr Karlo Mila, along with three new works supported by Creative New Zealand.
Mana Moana - Pacific Voices films were created to be screened during the United Nations Framework Convention on Climate Change (UNFCCC) COP-26, and other relevant climate change events. The initiative is supported by Aotearoa New Zealand, and coordinated by the Secretariat of the Pacific Regional Environment Programme (SPREP), with support from many Pacific people, organisations and communities. The Wellington event has been funded by the Wellington City Council, and the films will be shown on the waterscreen for the first time.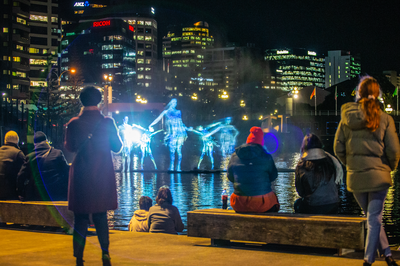 Mana Moana: Õtepoti will be on at Otago Harbour from 24 to 26 June between 5.30pm-8.30pm. This event will showcase works that have connections to Õtepoti. Associate Professor Rakena says she worked with a number of artists and people from Ōtākou to make a new artwork for the event.
"We've recorded a high school kapahaha group, He Waka Kōtuia, who will be performing a version composed by Te Hapū ki Ōtākou of the Wellerman Shanty that went viral on Tiktok last year. It's a whaling shanty that's attributed to the Weller Brothers Whaling business that was based at Ōtākou in the 1830s. Edward Weller was married to two chiefly Ngāi Tahu women, Paparu and Nikuru, and their descendants are among those performing in the work."
Dunedin City Council have funded the South Island event and the new artwork.
Later this year the project will also be showcased at Toronto Nui Blanche, where it will also include works by indigenous artists from the arctic/Canada region.
Wednesday 18 November 2020
A ground-breaking art installation curated by two artists and Massey staff members Rachael Rakena and Mike Bridgman, Mana Moana, is back on the water in Wellington this week with a spectacular showcase of contemporary art.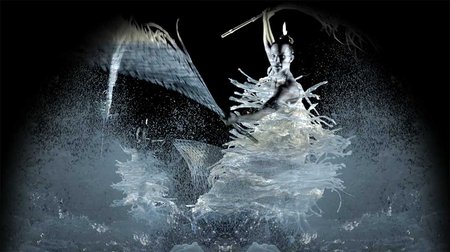 Friday 28 June 2019
This Matariki, a constellation of artists led by two Massey University academics are creating a unique cinematic experience on Wellington Habour's lagoon.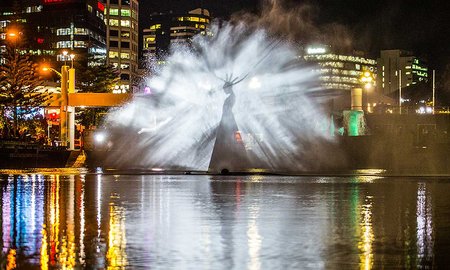 Thursday 16 July 2020
Two Massey staff members are the curators of Mana Moana Volume 2: Digital Ocean, an immersive web-based digital art experience running from July 17-25.