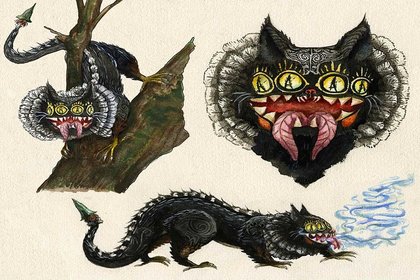 Last updated: Friday 25 November 2022
Massey University's Toi Rauwhārangi and Wētā Workshop are pleased to announce the winners of the second annual Earth Guardians character design competition for high school students.
The overall winning entry and winner of one of five traditional media awards was Molly Campbell of St Margaret's College with her guardian Wareware Wareware, a character who is protective of biodiversity and encompasses features of the extinct Huia, Moa, Haast eagle and greater short-tailed bat.
Around 367 young people entered the competition, including 41 international entries. Entrants were tasked with creating a character to defend the earth, using nature and the elements to inspire their designs. They were also asked to supply details about where the character lives, its special powers and links to specific places, myths, legends, customary Māori narratives and deities.
Wētā Workshop's Art Director Rebekah Tisch says the decision was made to give the overall award to Molly as the design was nuanced, considered and showed bold design decision-making. "The design is packed full with lots of interesting details, yet works well as a whole and doesn't feel cluttered or piecemeal. The artwork itself is clear and confident," says Mrs Tisch.
She also applauded Molly's use of extinct fauna within the design.
For her efforts Molly won a Wacom 16" Cintiq Pen Display, as well as a $100 prize pack from Gordon Harris for also winning one of the five traditional media awards.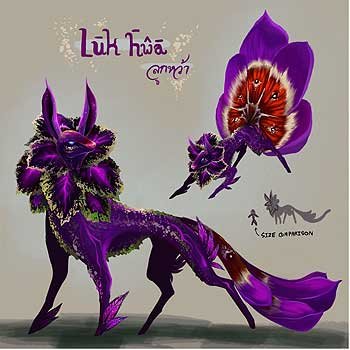 The supreme winner of the international entries was Puntita Chantapoon of Thailand for her design Lūk h̄ŵā (ลูกหว้า), a guardian that leaves flowers wherever it walks and acts as a forest guard.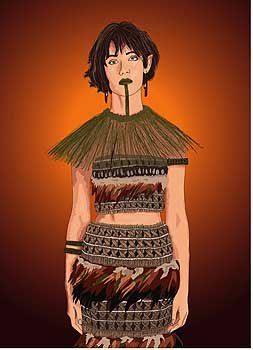 The Create With Us Award sponsored by Wellington School of Design Ngā Pae Māhutonga was given to Nyle Turuwhenua from Pukekohe High School and Ngāi Tūhoe for her guardian Te tamāhine nā Papatūānuku. She is a demigoddess with the ability to manipulate her environment and whose powers lie in her handcrafted dress, made by traditional weaving practice and materials gifted from Papatūānuku.
Litania Borrell from Epsom Girls' Grammar School won the Moana Oceania Narratives Award for her guardian Aituā, a character who resides in the earth's atmosphere and relieves places and people of their negative energy through precipitation.
The Te Ao Māori Award went to Te Aroha Pokai Harrison-Kaa of Ngati Porou, Ngati Uepohatu and Sonrise Christian School in Gisborne.
Her guardian Te Hākuturi are the eyes and ears of the trees and plague anyone who desecrates nature. Judge for this award, A44 concept artist Hamish Fraser, says Te Aroha's character stood out to him. "The story of Te Hākuturi pertained well to the competition's themes, whilst suggesting a world beyond this character alone, which I thought was pretty cool. I can definitely imagine encountering this creature, and others like it, whilst hiking through Tāne's domain across Aotearoa."
The best game concept awards went to Te Aroha Pokai Harrison-Kaa for Te Hākuturi, Ying by Junjie Wang, Sanctuary by Anabel Wu, Nganara Haurua by Jake Hainsworth and Whalien H20 by Daniel Shin. These winners each receive prize packs from award sponsor PikPok.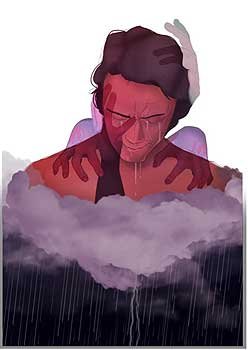 Traditional media awards went to Uuma By Rata Shaw, Nganara Haurua by Jake Wainsworth, Wareware Wareware by Molly Campbell, Tellus by Preston Holder and Eeva by Mikah Buchanan. These students all win $100 prize packs from Gordon Harris The Art & Graphic Store.
Spotswood College in New Plymouth won the Top School Award and will receive a visit from designers from Wētā Workshop. Highly commended schools were ACG Parnell, Epsom Girls' Grammar School, Hamilton Girls' High School, Macleans College and Pukekohe High School.
Ten winners selected by the public in the Wētā Workshop Rising Stars Highly Commended Awards will receive $150 towards travel to Wellington for a concept design experience and a tour of Wētā Workshop. Voting begins on 13 August.
Competition judges included representatives from Wētā Workshop, Adobe, Massey University and PikPok. Art Director Paul Tobin from Wētā Workshop says the judging panel were overwhelmed by the level of awesome entries they received. "The level of inventiveness, attention to design detailing and beautifully written explanations was amazing. It made for some very spirited discussion amongst the design studio, and it was a tremendous challenge to narrow the entries down to a small number of finalists."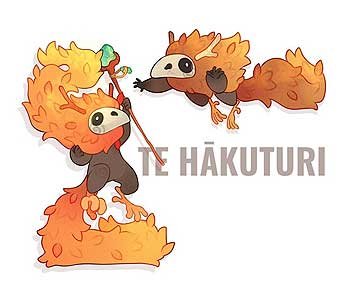 Concept Artist Hamish Fraser says it was a real pleasure for him to be back judging again. "This year's submissions definitely set the bar, making the process a really enjoyable one. It was great to see such a variety of strong ideas and styles, some making me smile and chuckle."
Concept design uses traditional art and digital mediums to create concepts for new objects, characters or environments. It can include anything from designing characters, creatures, props, vehicles and machines to building entire worlds that form the foundations of feature films, theme parks, events, toys or exhibits.
A huge thank you to Gordon Harris The Art & Graphic Store, PikPok and Adobe Creative Educators for their sponsorship of the awards.
To find out more about the awards, click here.
More information about concept design at Massey University is available here.