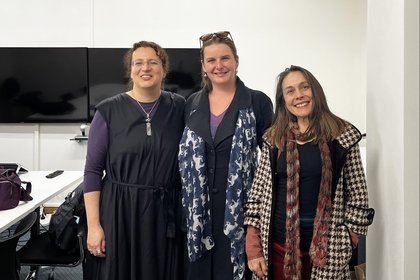 Last updated: Thursday 10 August 2023
Massey Classical Studies staff recently hosted a dedicated workshop for teachers of Classical Studies in New Zealand schools, entitled Aotearoa, Greece, and Rome: Planning for the Future of Classical Studies in New Zealand Schools.
Senior Lecturer Dr Anastasia Bakogianni says the goal of the workshop was for teachers of the subject to work together to find new and exciting ways to communicate their love for the ancient world to young people.
"We discussed how we can best respond to the new standards introduced by the government in schools and the impact of the increasing use of technology in the classroom.
"The event was divided into two halves. The first consisted of a series of presentations by the teachers, followed by a discussion of the challenges they are facing and the solutions they have found that allows them to demonstrate the relevance of Classical Studies in Aotearoa New Zealand."
After a lunch featuring Greek food, the group continued their discussions. Presentations were given by Dr Bakogianni, Dr Gina Salapata and Dr Jonathan Tracy, centring around how each use technology to engage students in online classrooms. The examples were carefully chosen for their relevance to schoolteachers and their appeal to students of all ages.
"One of the key solutions we all agreed on was that collaboration is the way forward. For example, to introduce meaningful comparisons between the ancient world and Māori culture in our curricula, we need the help of our colleagues in Māori Studies. There is a lot of scope in this space, but to do it respectfully and well we need to initiate discussions with specialists," Dr Bakogianni says.
Collaborations between academics and school teachers of Classical Studies benefits both sides. One such project that Dr Bakogianni and Anneka Rene of Saint Kentigern College are working on involves creating a pilot scheme between Massey University, Saint Kentigern College and a school in Thessaloniki, Greece.
The idea is to create a partnership between the schools and get students to work together on a short project about ancient Greek myth and its relevance for young people in New Zealand and Greece.
"Such international collaborations can help students connect to other young adults in different parts of the worlds. It can help them master both technical and communication skills and demonstrate the appeal of the classical world today. I am planning further collaborations with teachers and more events of this type in the future, so watch this space."
This is the second workshop for school teachers of Classical Studies that Dr Bakogianni has organised. The previous one was in 2019.
The workshop was attended in person by six Auckland-based teachers, while three more teachers from other parts of the country attended on Zoom. It was organised by Dr Bakogianni with the help of Kay Brown of Westlake Girls High School and Anneka Rene of Saint Kentigern College.
Wednesday 26 July 2023
Massey's Classical Studies programme has planned a series of events in Palmerston North to mark its 50-year anniversary.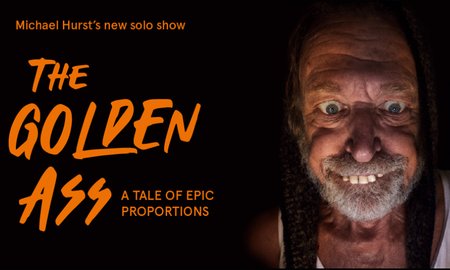 Friday 24 February 2023
The legendary Trojan War, celebrated in the works of Homer and Virgil, is now the subject of an innovative interactive game produced to mark the 50th anniversary of classical studies at Massey.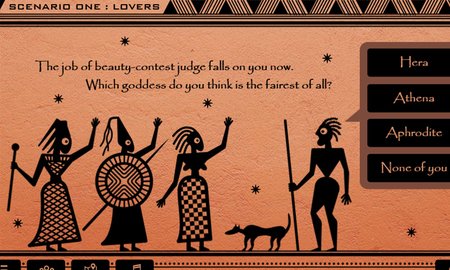 Thursday 23 August 2018
Democracy and citizenship are ancient ideas, still evolving in our time. Massey University Classical Studies specialists will share insights on how outsiders were integrated into Ancient Greek and Roman societies and explore parallels and pointers for today's world.