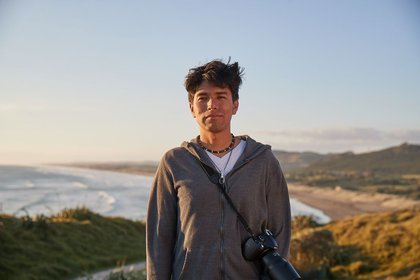 Last updated: Friday 19 August 2022
A  Massey PhD science student, Enzo Rodriguez-Reyes, features in Education New Zealand's latest global digital campaign.
Entitled New Futures Need New Paths, the campaign includes videos and highlights how a New Zealand education provides students with the skills required to excel in their future, and create a positive impact in their world.
Mr Rodriguez-Reyes, from Ecuador, tells his story on what prompted him to study at Massey. He worked on the Galapagos Islands for four years and witnessed first-hand what was happening as a result of climate change.
His research looks at the spatial and behavioural ecology of two isolated populations of the Floreana mockingbird, an endangered songbird.
Darwin's Muse
The bird is also known as "Darwin's Muse", because of its pivotal role in the formation of English naturalist and geologist Charles Darwin's theory of natural selection.
During his HMS Beagle voyage in 1835, Darwin observed that the native mockingbird differed in appearance between the islands, inspiring the evolutionary theory in his Origin of Species book.
Mr Rodriguez-Reyes says with just over 300 of the birds alive and he hopes to make a difference through his research. "That's what brought me to New Zealand, one of the world leaders in conservation. All the experts are here and I feel lucky to be working alongside my supervisor who is an internationally-respected conservation biologist."
Mr Rodriguez-Reyes' principal supervisor is Dr Luis Ortiz Catedral. School of Natural and Computational Sciences head Professor Dianne Brunton and Dr Adam Smith are co-supervisors.
The campaign involves videos, images, infographics and web banners.