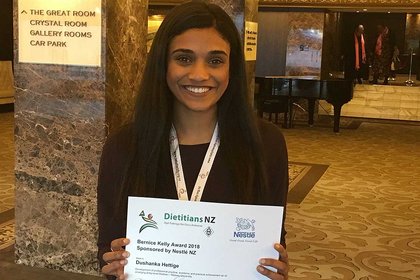 Last updated: Monday 29 August 2022
Massey University graduate Dushanka Hettige has been awarded the 2018 Bernice Kelly Award from Dietitians NZ for the most improved full-time dietetic student, from either Massey University, University of Otago or University of Auckland.
The award recognises accomplishments in academic, practical and professional practice within emerging entry-level dietitians.
Born in Wellington, the former Newlands College pupil graduated with a Master of Science (Nutrition and Dietetics) from Massey University's Auckland campus in 2018, after successfully finishing a Bachelor of Science in Human Nutrition at the Manawatū campus in 2016.
"I have always had a great interest and passion in wanting to contribute to making a positive difference in the nutrition and health of our community. I look forward to the successes, challenges and future learnings in my career as a dietitian and I am grateful for all it has taught me so far," Ms Hettige says.
"This award would not have been possible without the help and guidance of Reena Soniassy-Unkovich and Associate Professor Rozanne Kruger, who inspired my passion to dive headfirst into dietetics. I would also like to thank my supervisor Associate Professor Carol Wham and co-supervisor Dr Marilize Richter for their extensive encouragement during my masters' thesis."
The 23-year-old, who now lives in Palmerston North and works as a clinical dietitian at the MidCentral District Health Board, also credits her close circle of friends and family for their continuous support and belief.
Dr Kruger says Ms Hettige was a very enthusiastic student dietitian, taking on every opportunity to hone her skills and expand her experiences. "Underlying her growth throughout the two-year training was excellent organisation and time management skills, complemented by being very thorough in her assignments and course work. Dushanka further showed the same attentiveness on all professional practice placements and she conducted her research project with diligence, focus and drive."
After receiving her award at the annual Dietitians New Zealand Conference which was held in Auckland last month, Ms Hettige presented her research, entitled The prevalence of nutrition risk and associated risk factors among older adults recently admitted to age-related residential care within the Waitemata District Health Board region.
This is the second year in a row that a Massey University graduate has received the Bernice Kelly Award, after dietetics student Rachel Blair was awarded last year.