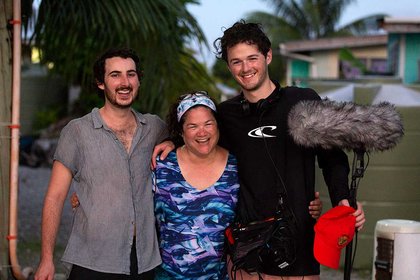 Last updated: Wednesday 25 May 2022
Three Massey University students have returned from a trip to the remote Pacific nation of Tokelau, where they filmed a documentary on the effects of climate change.
Bachelor of Creative Media Production students Ben Dickens, Kelly Moneymaker and Mason Rudd spent three weeks filming and interviewing locals on the islands of Tokelau, along with College of Creative Arts Pacific advisor Herbert Bartley, and a local guide.
The film, Vaka, is being made in collaboration with the Ministry of Foreign Affairs and Trade and the government of Tokelau as part of the students' third-year programme, where they pitch and create projects for real-world clients.
Vaka explores how climate change is affecting the community of Tokelau. Tokelau is made up of three small low-lying coral atolls that are three to five metres above sea level and at critical risk from the effects of climate change. Prime Minister Jacinda Ardern recently returned from a historic trip to Tokelau, and the New Zealand Government has announced it will contribute $6 million dollars to the upgrade of the solar electricity network.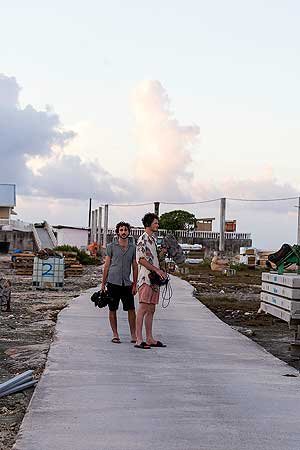 Ms Moneymaker says the opportunity to go to Tokelau, which is reached via a 52-hour boat ride from Apia, Samoa, was an adventure she had to take. "The society is really beautiful. They gather food together, share the catch, and live collectively.
"They're solutionists as they have to keep evolving. Their resilience is very inspiring, and I learned a lot about my Pasifika roots."
The students have named the documentary Vaka (waka or canoe), after seeing how integral the vaka is to life in Tokelau.  Ms Moneymaker says, "The vaka is central to their community and to their survival. It's their main tool for fishing and food gathering." 
Mr Dickens says filming on a remote tropical island had its challenges. "Filming in 100 per cent humidity in 35-degree heat with full gear on our shoulders and a language barrier was challenging, but we met the kindest people you'll ever meet in your life."
The students say that life in Tokelau is changing rapidly, and Mr Rudd says the trip opened his eyes to the effects of climate change. "It's a community of change. You can feel it transitioning where women are moving into leadership roles. Everything is changing quickly."
Mr Dickens says that growing up in cities like Wellington or Auckland; "you always hear about climate change and you know it's a problem but you don't see it. I've always known it was an issue, but to visually see it, and to visually see people having to deal with this day-to-day, it just brings the problem so much more forward. That's what we are trying to show, and we are trying to show how the Tokelauans are responding to it amazingly." 
Team members and fellow students Jessica George and Rebekah Curtis-Motley are producing the film, while discovering how to plan budgets, travel itineraries, and how to promote the film via marketing and social media. Ms Curtis-Motley says "Not a lot of students get the opportunity to manage a sizeable budget so it's a huge learning experience for us as producers as well."
The team hope their film will help people to understand the urgency of climate change. Ms Curtis-Motley says "Climate change is real, and if anyone questions that, they just need to go Tokelau and see how their atolls are eroding. They (the people of Tokelau) want the world to know that they're trying to preserve their homeland for their children."
The students will spend the next few months editing the film, which will be shown at their end-of-year exhibition, Exposure, along with a series of portraits of everyone involved in the documentary. They also hope to screen the film at various climate change conferences around the world, and are fundraising to enter the film into international film festivals.