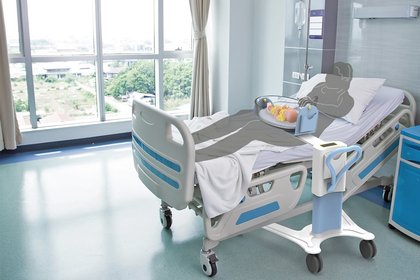 Last updated: Thursday 8 September 2022
Master of Design student Sarah Lakomy has been named the New Zealand winner for her product Hatch, while fellow Massey graduates Thomas Mackisack's Spot Check and Jillian Miller's product Somnum were both named runner-up.
Hatch is an accessible medical bassinet that facilitates acute postpartum recovery and maternal bonding by allowing the baby to be in close proximity to the mother. This assists mothers to build confidence in independently caring for their newborn, particularly after caesarean section deliveries.
Sarah says she was inspired to create a product that not only helped mothers, but was also beneficial to midwives.
"The purpose of this design is to create conversation and innovation in women's healthcare, a field which has historically been sidelined, to create a product designed by women, with women, for women," Sarah wrote in her entry.
"Postpartum is a period of rapid physical and emotional change where mothers report feeling overwhelmed and unprepared. Midwives provide vital support, however, staff shortages and underfunding sees midwives stretched, stressed, and struggling to provide the best care. Improvement of acute postpartum recovery has potential to reduce ongoing maternal health challenges, such as postpartum depression, ultimately lessening midwives' workloads."
Associate Professor of Industrial Design Rodney Adank said that Sarah's design demonstrated a deeper understanding of the issues that arise from childbirth, which can often be traumatic.
"Sarah tackled an overlooked part of childbirth regarding mothers' reduced mobility after birth by creating a product to help strengthen the bond between mother and child, and improve the overall experience," says Associate Professor Adank.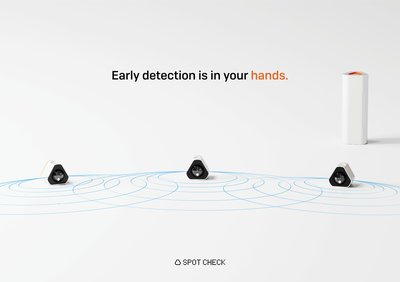 Thomas's Spot Check is a personal skin cancer detection system for consumers. It combines total body photography with a digital dermatoscope in a single, harmonious tool to scan the entire body to identify and track suspicious spots, determining risk using artificial intelligence.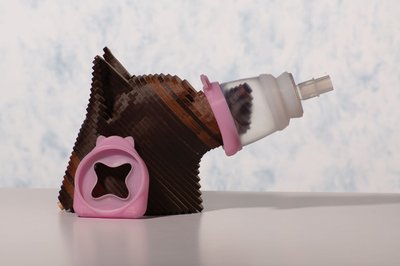 Jillian's Somnum is a series of different-sized anaesthesia masks that can be used on animal patients at veterinary clinics to provides an adequate seal that prevents gas leaks.
Sarah told Seven Sharp that 'there's something in the water' at Massey that sees the School of Design students succeeding at this level.
"I think when you get a room full of people who are all doers, we all inspire and challenge each other to do better. We're supported by great staff and awesome facilities, it's a great place to be."
The three New Zealand finalists now move on to the international stage of the competition where Dyson engineers will judge their designs against the other country winners.
The James Dyson Award is an annual international design award that celebrates, encourages and inspires the next generation of design engineers. The national winners receives $9,800.
Friday 18 September 2020
A recent Massey University graduate has once again come out on top in the annual national James Dyson awards with an innovative design for fully biodegradable running shoes.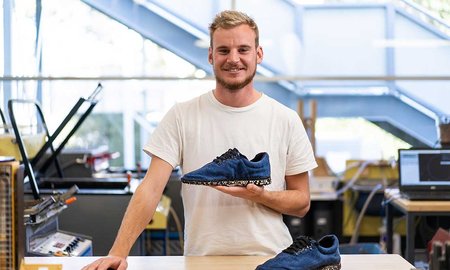 Wednesday 5 September 2018
Industrial design graduate Holly Wright's specialised saddle for disabled riders has won the top prize in the New Zealand section of the 2018 James Dyson Award.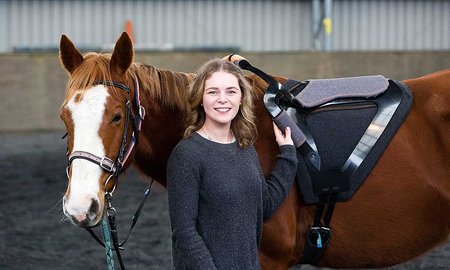 Wednesday 6 September 2017
Massey University industrial design graduate Nicole Austin's re-modelled lamb docking or tailing iron has won the top prize in the New Zealand section of the James Dyson Award.