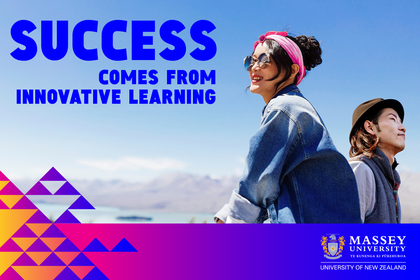 Last updated: Wednesday 29 June 2022
Executive Director of Global Engagement Christopher Carey says international students make a vibrant contribution to Massey.
"We are really looking forward to welcoming back our international students to rebuild that vibrancy - the contribution they bring to the university experience for our domestic students, the culture they bring, the difference in opinions and perspectives on academic issues that all our student's face. International students help provide the diversity that we cherish here at Massey."
With over 5,000 international students enrolled every year from more than 100 countries, diversification of the Massey student body is evident.
Associate Director Global Engagement Farhana Nalar says the diverse backgrounds, ages, geographical locations, education, ethnicities, and cultures that international students bring has an impact on visiting and domestic students at Massey.
"The objective of an international education is for the student to experience another country, a new culture, and immerse themselves in their future. They contribute to diversity, and enrich the learning experience for themselves and their domestic counterparts."
The pandemic has had a major impact on the international student market across all universities in New Zealand, with student enrolments dropping significantly within the tertiary sector.
Despite the challenges posed by COVID-19, Massey has maintained its strong international connections.
"Historically we have always been very strong with our international collaborations in research, articulation pathways, and our partnerships with other international stakeholders, including our international agent network. These collaborations and connections are a key source of inbound and outbound student mobility and are an intrinsic part of our global engagement strategy," Ms Nalar says.
Massey University has two offshore learning centres in China – Hebei University of Technology and Hainan University – as well as 333 international partnerships and 64 partnership agreements currently active. For this campaign, there is a current focus on recruiting students from India, China, Vietnam, Hong Kong, Indonesia and Sri Lanka.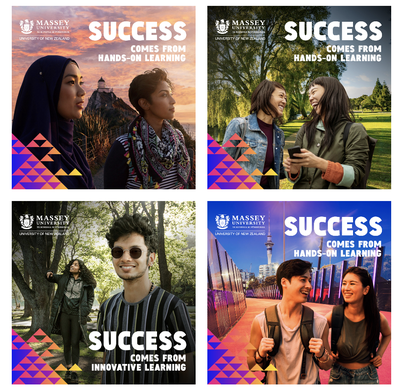 International Marketing Manager Heather Crichton says a key goal of the international recruitment strategy is diversification of Massey's markets.
"We want to focus on these markets so we can attract and retain a diverse population of international students who invest in New Zealand and their Massey educational experience at all levels of study. International education trends point to these markets as key growth markets, and they are very responsive to New Zealand as a study destination and Massey as a key education provider," she says.
Ms Crichton says the two campaign taglines 'Success comes from hands-on learning' and 'Success comes from innovative learning' are customised per market to ensure they are relevant to who we are talking to.
"Two creative concepts were presented to prospective international students in China, India, Vietnam and Hong Kong. This research allowed us to refine the messaging to 'Success comes from..', and gave us a clear indication on the style, colours, tone and imagery to be used. Their input was invaluable, and emphasised that the campaign should focus on the students rather than the university. It's an open statement that can be completed and substantiated with different aspects."
Executive Director of Student Experience Amy Heise says Massey recognises the importance of support for all students throughout their study journey.
"Massey does a range of things to support the wellbeing and safety of all students, including the provision of specialist support services such as achievement coaches, academic advisors and learning support. We also provide pre arrival support and orientation to all students."
Ms Heise says socialisation opportunities on campus accentuate the Massey student experience.
"Massey has a range of clubs and societies to help students meet other students. Students have the option to stay in our on-campus accommodation which have a significant programme of activities and events designed to help students get to know the local area and other residents."
Massey's established hybrid-learning approach to education enables international students to enrol now in order to complete Semester 2 online, before joining domestic students on campus next year.
International offshore students can start their study online from July while they get their visa processed, and enter the country later in the year, or in time for Semester 1 2023.
To find out how you can become a successful "work ready" Massey University graduate, visit the study with us as an international student webpage.
Thursday 24 March 2022
The launch of Massey University College (MUC) earlier this month marks the beginning of a new semester and a new path for success for international students wanting to start their study journey.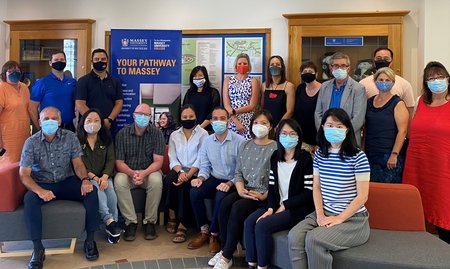 Tuesday 11 May 2021
Sunny Deng is excited to be back in New Zealand pursuing her goal of becoming a qualified food technologist, after being granted a border exemption to return to study.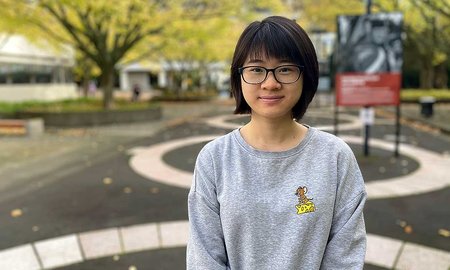 Tuesday 26 January 2021
Massey University was excited to welcome back its first PhD student granted a border exemption to enter New Zealand and continue studying.