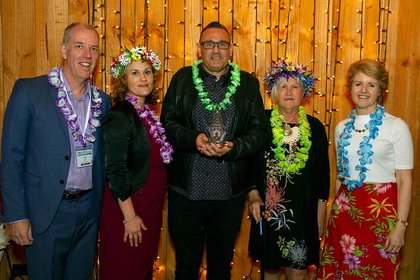 Last updated: Thursday 25 August 2022
Massey University mathematics education specialists have won a major award for their research in designing new teaching methods to improve Pasifika and Māori student achievement.
Professor Bobbie Hunter, whose doctoral thesis published 10 years was the impetus for the project, was awarded the Mathematics Education Research Group of Australasia (MERGA) Research award, along with Dr Jodie Hunter, Trevor Bills and Professor Glenda Anthony, all from the Institute of Education.
They received the accolade during this week's MERGA conference being held at Massey's Auckland campus, making them the first New Zealand recipients of the prestigious award.
Dr Jodie Hunter says that the award is; "fantastic recognition" for their work with the most vulnerable communities in New Zealand. "It validates our research which highlights the ways that teachers can transform their practices to meet the needs of all students."
The team members were commended for their leadership in research in mathematics education focused on "equitable access for diverse mathematical learners."
Over the last 10 years, the team has led research and development grants totalling more than $7 million.
Their projects, based on the Developing Mathematical Inquiry Communities model designed, trialled and evaluated by Professor Hunter, include an examination of how diverse learners can be supported through the communication and participation patterns in primary school classrooms. This ensures that students had more equal opportunities through culturally sustaining teaching and learning. 
This research has yielded numerous projects, including a three-year Teaching and Learning Research Initiative (TLRI) project: Learning the Work of Ambitious Mathematics Teaching. Building on collaboration with researchers from the United States, the project explored innovative and ground-breaking practice-based teaching methods within the context of initial teacher education across multiple settings in two university programmes. 
The researchers have worked with 89 schools here, and two schools in Niue, principally serving low socio-economic communities with a significant Māori and Pasifika student population. "Research with these schools consistently identified significant improvements in student access and participation in mathematics, as measured in school-based assessments, alignment with cultural values and identity, and a range of pro-social skills," the award nomination said.
All members of the research team are members of the Massey University Centre for Research in Mathematics Education (CeRME) – committed to supporting quality, leadership, research capability building and innovation of research and scholarship within mathematics education.
MERGA awards previously won by Massey academics: 
MERGA Early Career Award: (Professor Bobbie Hunter (2006) and Dr Jodie Hunter (2009)
Practical Implications Award: Professor Glenda Anthony (1996); Professor Bobbie Hunter (2008); and Dr Jodie Hunter (2015)
MERGA Career Research Medal (Professor Glenda Anthony, 2013)