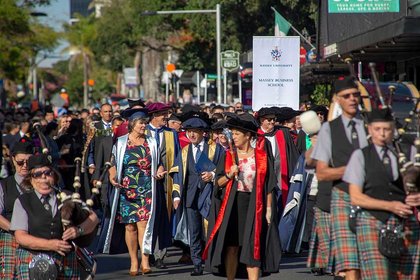 Last updated: Monday 30 May 2022
The ceremonies are held at the Bruce Mason Centre in Takapuna, Auckland, commencing on Tuesday morning and concluding on Thursday afternoon. There will also be events to celebrate Pacific and Māori graduates, on Thursday in the Bruce Mason Centre, and Friday in the Sir Neil Waters Foyer.

A total of 1339 students will graduate this week, including 28 with doctorates and 289 receiving master's degrees.

Vice-Chancellor Professor Jan Thomas commends those graduating, and acknowledges the hard work they have put into their education and future.

"Graduation is a celebration of academic success both for graduates and their whānau and friends who have been there every step of the way, supporting and encouraging in whatever ways they could.

"At Massey we like to celebrate success from a thousand little moments – it's those small steps, one after the other, which help to get people to graduation – juggling whānau, life commitments and work alongside study, those late night snacks getting you through those final hours of an assignment. Graduation is an enormous achievement and one our graduates should be very proud of.

"We know our Massey graduates go on to change the world and make a significant impact in their chosen paths in communities, Aotearoa and the world."

The ceremony details can be found on our website, you can also watch a live stream of each ceremony.

Massey University social media
Before and after the ceremonies we will be taking photos of our graduands for our Facebook and Twitter page. Keep an eye out for our photographers if you'd like to get your photo taken. You can also share your graduation highlights and photos with us by using the hashtag #MasseyGrad.