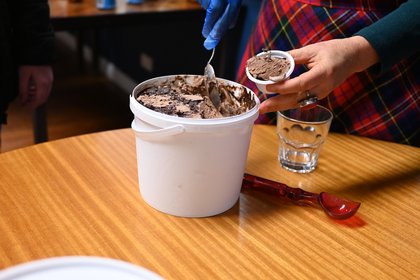 Last updated: Friday 11 November 2022
The Student Investment Fund (SIF) has invested in Kinda, a company that makes vegan ice cream out of cauliflower. The product is the brainchild of Master of Food Technology student Mrinali Kumar and Jenni Matheson, who has been making vegan ice cream at home for her family for a number of years.
The two met at a start-up weekend in Taranaki in 2020, and after one-and-a-half years of technical development, created the dairy-like ice cream that contains no added gluten, soy, nuts or GMOs.
They collaborate with social enterprise Perfectly Imperfect, which make use of 'cosmetically imperfect' food that can't be sold in supermarkets, to source their cauliflower. Talks with growers are also in the works.
Mrinali says the product is a more sustainable option than dairy-based ice creams, and aligns more with New Zealand's clean green image. "In New Zealand we're very reliant on the meat and dairy industries, and it's not sustainable for our economy to be putting all our eggs in one basket, being an exporting nation."
Now, with the help of SIF funding, Kinda is raising pre seed capital ahead of their summer 2023 launch. The strawberry flavour of the ice cream is set to be sold at Hell Pizza from February 2023. Following that, Mrinali says the plan is to expand into other retail chains in Aotearoa New Zealand, then expand globally.
The SIF is designed by Massey Ventures, the commercial arm of the University, to provide students with early-stage investment on founder-friendly terms over a six-month period. This encompasses a tranched investment, active support over six months, and a hot desk space on one of the three Massey campuses.
They are also provided with access to the wider Massey Ventures team to help in each aspect of their start-up.
"I think it's really good to have the Massey Ventures team backing me, because with the investment there also comes a whole lot of knowledge, and I feel like I can go and share my challenges and not be judged for them. Massey Ventures want to help me succeed, they're not necessarily in it for the money. They are genuinely there to help students build their entrepreneurial capabilities and help grow their ideas into a potential career option," Mrinali says.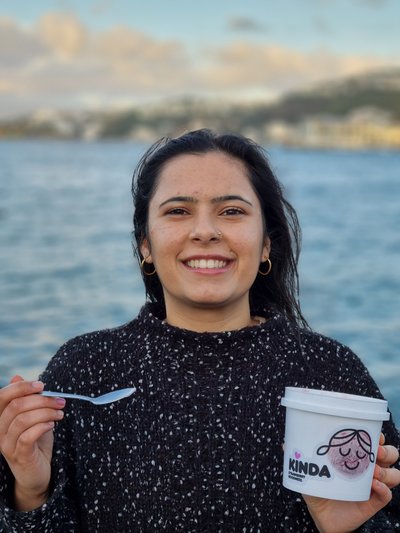 She adds that the SIF is incredibly helpful because students don't necessarily have the finances to go off and start a business or become an entrepreneur.
Massey Ventures Chief Executive Officer Mark Cleaver says Massey Ventures is excited about the technology and team behind Kinda.
"Mrinali and Kinda are great examples of the innovative work going on at Massey. Their ice-cream is 100 per cent dairy-free, 100 per cent kiwi ingenuity, and 100 per cent delicious. What's not to love?"
Mark says the Massey Ventures team are always on the lookout for students with business ideas or products that could be commercialised.
"Kinda's success is something we hope students will see as inspirational, and we want to hear from any and all students who have a business idea they are passionate about."
If you have an idea or wish to speak with the team, email contact@masseyventures.co.nz or fill in the form on their website.
Monday 10 October 2022
Massey innovations including cauliflower ice cream and Nuclear Magnetic Resonance technologies were crowned winners at the 10th annual KiwiNet Research Commercialisation Awards.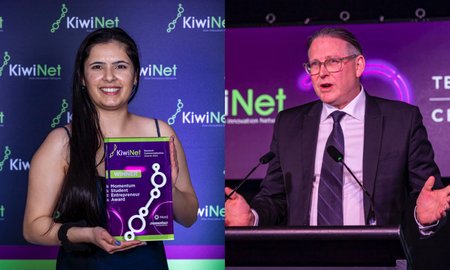 Tuesday 23 August 2022
Massey is once again showcasing its innovators and entrepreneurs, with four finalists in the 10th annual KiwiNet Research Commercialisation Awards .