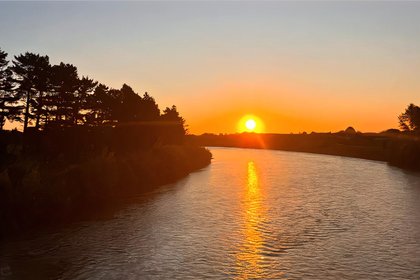 Last updated: Tuesday 21 November 2023
He Kaupapa Tūmanako/Project Hope, an innovative programme aimed at secondary level students, provides students with a toolkit of practices of hope, developed from the social sciences and Mātauranga Māori.
The course is designed to empower rangatahi to use the tools they learn to envision and create sustainable futures. It is aimed at harnessing the voices and aspirations of young people in ways that develop their leadership skills and a hopeful vision of their future.
Horizons Regional Council Pūkenga Matua Taiao Senior Environmental Educator Sarah Williams says, "He Kaupapa Tūmanako/Project Hope is a particularly important project, as young New Zealanders are feeling increasingly hopeless about the prospects of growing up in a world transformed by climate change and inequality.
"Supporting and empowering our rangatahi so they are ready to enact sustainable change in their community is so important. Their passion for the planet can drive transformative change. We are really excited to partner with Massey on this initiative as it fits nicely with Council's sustainability and climate change values."
He Kaupapa Tūmanako/Project Hope was originally designed and launched in 2020 by academics from Massey's College of Humanities and Social Sciences. Since then, 14 schools and 487 students have been involved in the programme.
The most recent four-week joint programme kicked off in October. Sixty-four students from Year nine to 13 (ages 13-17) from nine schools participated in the programme, including 54 students completing the course for the first time, and 10 student mentors.
Mentors are graduates of the course who then train in mentoring and leadership and work closely with small groups of rangatahi in a tuakana-teina model throughout the course.
The schools from Manawatū-Whanganui were Palmerston North Girls' High School, Taumarunui High School, Freyberg High School, Rangitikei College and St Peters College. Long Bay College from Auckland, Sacred Heart College from Hawke's Bay, Paraparaumu College and Kuranui College (Greytown) also participated.
The programme was facilitated by Dr Alice Beban, Dr Warwick Tie, Dr Matt Wynyard and Nicolette Trueman from the School of People, Environment and Planning, alongside Dr Heather Meikle.
Programme structure and themes
Orientation week is where students got to meet each other in the first Zoom meeting, connect with their student groupings and mentors, learn about the structure of the course and get familiar with the learning e-platform. Students are introduced to ideas around what hope is, and the concept of hope as a practice is discussed.
In this initial week, students anonymously share their fears and anxieties about what the future holds, creating a virtual word cloud, and discuss the issues that appear.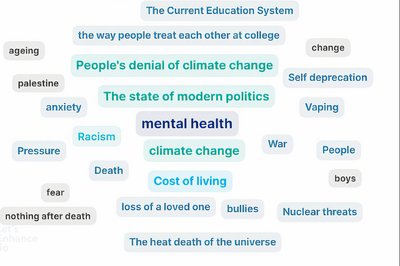 The next week is Practices of Whakaaro (thought), in which students learn about hope as a practice of thought.
"We draw on matauranga Māori philosophy to learn about gaining strength from the past as we look to the future. Students watch two short videos, attend the weekly Zoom session and complete an activity," Dr Matt Wynyard says.
Students develop two short pieces of writing that align with the week's teachings. The first piece asks students "Who is one person from your past that has positively influenced you?" and the second asks "What legacy do you want to leave behind?"
In the Zoom session, student groups also decide as a collective what they want to be remembered for.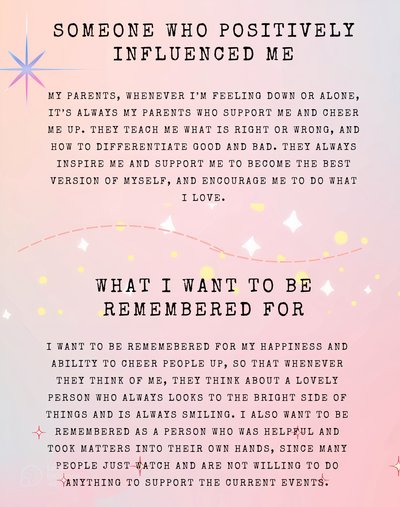 The next week looks at Practices of Whiti (connection). The module introduces students to the practice of connecting to the environment around them. The students watch videos on how to 'tune in' to the world around them using the five senses.
Course Facilitator Nicolette Trueman says, "In the Zoom session, we get students to do a scavenger hunt to find an item of special meaning to them and use the five senses to describe it. We also get students to stand outside in nature for a few minutes and use their senses to tune in."
"During this week we ask students to reflect on a place that has special meaning to them, for example their favourite beach, childhood garden or local river. They then post a picture and some writing using the five senses to unpack this place in order to transport their peers there," Dr Alice Bevan says.
The final week looks at Practices of Ātetenga (action). Students learn about practicing active hope and watch videos in their weekly module. Students then come to the Zoom session to create and perform slam or protest poetry based on a topic they feel strongly about. Students create this poem with their group members in the Zoom breakout sessions, then perform it to the wider group.
One of these poems was Technology has broken us. Students commented on their observations about technology and talked through what sits behind that, ending with a call to action.
Another was Like it is nothing. In this poem, students speak to the impact of an unstable economy and the anxieties it presents in their future. They comment on their fading dreams of buying a house, having a family and not knowing how the security in their futures will take shape.
"In the final week we had a prize running, giving students the opportunity to submit a poem that will be published next year in a special issue on hope in the New Zealand Journal of Sociology. The prize will be awarded to two of the best, most creative and compelling poems written," Dr Heather Meikle says.
Student feedback
Since He Kaupapa Tūmanako/Project Hope began, student feedback has been very positive, and this latest programme was no exception.
When students were are asked what the most memorable aspect of the course was, answers included:
"Writing about our favourite place, it really took me back to old memories."
"Writing about our favourite place, it really took me back to old memories"
"Every one of us relating to each other's situation and trying to understand each other"
"Finding out about what hope is to me, what it should look like, sound like, as well as how I should show it in return"
"No doubt my group. Even on the first week we just got along so good and were all taking part in discussions, it was so awesome. I really felt by the end of today's session that my group are my friends."
"The Zoom meetings, working on our group projects, collaborating with students all across New Zealand was definitely a unique learning experience."
Dr Warwick Tie says students were also asked what the one key learning they would take away from Project Hope would be. The answers included:
"That sometimes if it's all too much, it's ok to step back and think about how you can mitigate the stress, or make it better for you."
"That hope can be big or small."
"That even in troubling times there can, and will be, a bright side to it."
"Practices of thought and using my senses to stop and smell the roses."
"Hope is a lot of things. To be hopeful for the future and to hope your dreams come true. To acknowledge what is going on in the world and to then find things you yourself can do to create small change in big issues."
Monday 26 July 2021
What gives you hope? That is the question He Kaupapa Tūmanako/Project Hope, a course developed by Massey sociologists, has been asking secondary school students.