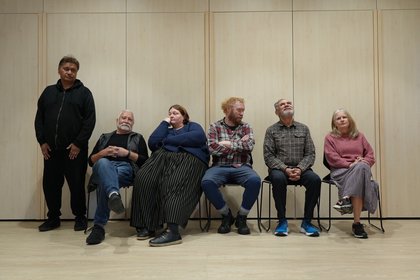 Last updated: Tuesday 29 August 2023
The play, titled Un-Welfare State, explores experiences of the welfare system in Aotearoa New Zealand. The research project that the play draws from involved a team of seven principal researchers and eight postgraduate students from across three New Zealand universities. It involved interviewing 33 households who are in work but still experiencing poverty and the impact that this has on health and wellbeing.
The play is currently being rehearsed by the Hobson Street Theatre Company, and directed by UK theatre director Adrian Jackson.
School of Humanities, Media and Creative Communication Senior Lecturer Dr Rand Hazou wrote and compiled the play and is also co-directing the performance. Dr Hazou says the play is set in a Work and Income office.
"We meet a range of ordinary people who are experiencing a range of difficulties and need extra support and help. We also hear stories from workers who are on the front line and help to administer benefits. This production explores what it's like on the front line and provokes audiences to consider what is working and what isn't in our welfare system."
The research project behind the play resulted in over 140 hours of interview material, photographs, maps and diagrams, some of which are directly incorporated into the play.
A community showing of the play in its current state is being held from 11am this Saturday, 2 September at the AT2 Underground Theatre on Massey's Auckland campus. Entry is free and all are welcome to attend.
About the Hobson Street Theatre Company
The Hobson Street Theatre Company (HSTC) was founded in 2010 when theatre producers Bronwyn Bent and Sally Barnett approached Wilf Holt at the Auckland City Mission with the idea of hosting weekly drama sessions for those using the services of the Mission. Over the years, some 100+ participants have joined the group at some stage.
During one memorable winter there was but a single class member and Ms Bent attending, other times there have been 20 people regularly creating work together. No matter the makeup, the core commitment of the group is to provide an open and relaxed atmosphere where all are welcome. HSTC uses theatre to share the stories of those with experience of living on the street, and to foster dialogue on issues that lead to and perpetuate homelessness. They use their art to demonstrate to audiences that, in the words of one group member, "homeless don't mean hopeless".
About Adrian Jackson
Adrian Jackson is the founder and former director of the theatre company Cardboard Citizens, who produce work particularly by, with and for those who have experienced homelessness, inequity, or poverty. He is an experienced theatre maker who has worked across a range of artforms.
Mr Jackson is a specialist in the Theatre of the Oppressed, having translated five books by the Brazilian theatre pioneer Augusto Boal. In 1998, they collaborated on The Art of Legislation, an Artangel-sponsored piece of Legislative Theatre at County Hall in London. He has led masterclasses in Theatre of the Oppressed in the UK, across Europe, Asia, South America, Australia and Africa.
Mr Jackson specialises in participatory arts and the use of arts as an inclusive practice to engage marginalised communities. He is committed to creative work that brings about social change. He is visiting Aotearoa under the auspices of Flock Charitable Trust, the Hobson Street Theatre Company and the HRC funded research project Precariat Whānau.
Tuesday 25 July 2023
A symposium being held on the Auckland Campus will look at innovative ways to evaluate and demonstrate the social value of participating in the arts.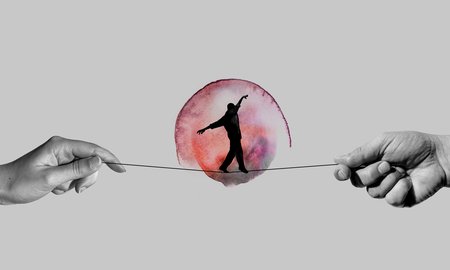 Tuesday 13 September 2022
Lockdowns were lonely and isolating for many, but an imaginative bunch of Bachelor of Arts students discovered how their creative projects fostered a sense of togetherness.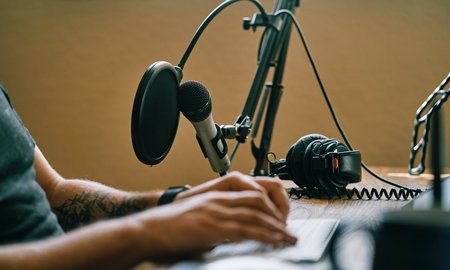 Friday 28 June 2019
Stories of prisoners' lives usually stay locked up - but a group of male prisoners in Auckland has had the chance to study performance techniques and to share their experiences of being behind bars through a special theatre project.