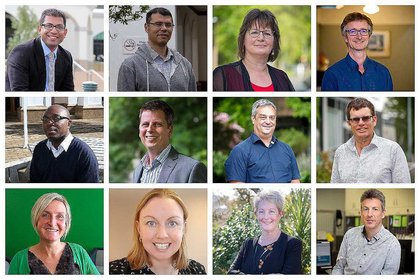 Last updated: Tuesday 29 March 2022
Twelve Massey University staff have been promoted to professor and 24 to associate professor, which takes effect from January 1.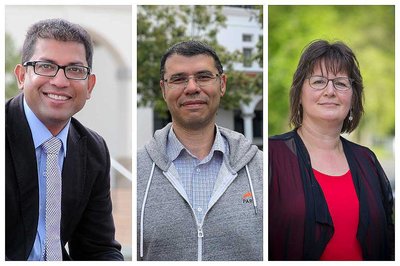 Professor Aj Ali - School of Sport, Exercise and Nutrition  
Professor Ali's research spans several platforms that broadly fit within the categories of physical activity/sport and aspects of health, wellness and sporting performance within adults and children. He has built up a significant track record in paediatric exercise science and helped develop physical activity guidelines for under-fives for Ministry of Health, significantly impacted on the activities of the largest provider of early childhood services in New Zealand (BestStart), and won an international award with the World Organisation for Early Childhood Education.
He designed the overall evaluation of Sport New Zealand's flagship five-year Healthy Active Learning initiative, part of the Government Wellbeing Budget, by bringing together a multidisciplinary group of experts and liaising with three different government agencies and their regional bodies.  He has been invited to develop a similar initiative in China.
Professor Ali is a world-renowned expert in soccer skill, intermittent exercise and supplementation research and has developed the most widely used skills tests in the literature (for men, women and children). He sits on the editorial board of three international journals and is an expert reviewer for over 40 journals. He was awarded a Fellowship of the European Congress of Sport Science, one of the most prestigious research organisations in his field. He holds two invited Honorary positions at high-ranked universities in Hong Kong and the UK.  

Professor Faruk Balli - School of Economics and Finance   
Professor Balli is an applied economist whose research interests include international finance, macroeconomic aspects of international finance, Islamic economics/finance and tourism economics. He was invited by the East Asia Office of The World Bank - one of the most prominent research institutions in the world- to be an economist consultant in 2020. He has acted as a referee in more than 45 different journals and currently serves on the editorial boards of Tourism Economics, Tourism Analysis, Journal of Economics and Finance and Int. Journal of Islamic and Middle Eastern Finance and Management.

Some of his selected works have been presented at the European Finance Association, Financial Markets Authority Annual Meetings, and American Economic Association Meetings. In 2015 he was appointed by AMANAH Ethical Investment Company (the first KiwiSaver company with Islamic/ethical practices in NZ) into both directory and advisory boards; he is also a member of financial services company, EFCO's advisory board.  He has received several awards, including the prestigious Emerald/European Foundation for Management Development: MENA Management Research Fund Award, Massey Business School Early Career Research award, and Massey Business School Individual Research Award.

Professor Jackie Benschop - School of Veterinary Science
Professor Benschop is a School of Veterinary Science research group leader, co-directing the Molecular Epidemiology and Public Health Laboratory. She is a global expert in the field of zoonotic disease with focus on those that have occupational or food-borne transmission pathways. Her research focuses on health at the human-animal-environment interface. She works on Leptospira and Salmonella, globally important pathogens, with cross-cutting themes of climate change and antimicrobial resistance. As leader of Massey's leptospirosis research group, she is regularly consulted by veterinary and medical practitioners, farmers and rural groups. She advises on outbreaks of human leptospirosis in regions, in abattoirs and on farms, including assisting WorkSafe NZ and Public Health Units in their disease investigations.

Professor Benschop is a Steering Committee member of the World Health Organisation's Global Leptospirosis Environmental Action Network, Management Group member of One Health Aotearoa and on the Infectious Diseases Academy of the New Zealand Ministry of Health. In 2015 she co-founded the African Leptospirosis Network to advance activities around leptospirosis in the African continent. This network supports the African science community through access to peer-reviewed publications, mentoring, thesis examining, a PhD offer of place at Massey University for a Tanzanian student and rapid identification of expertise to support outbreak response in Mozambique.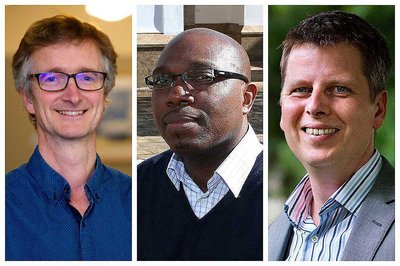 Professor Andrew Brown - School of Humanities Media and Creative Communication

Professor Brown is a leading historian of medieval Europe who has produced innovative scholarship on civic ceremony, urban religion and citizenship in England and Flanders. In the past four years, he has published three co-edited and co-authored books, including Medieval Bruges c.850-1550 which was published by Cambridge University Press in 2018. This was the result of a ten-year collaborative project he led with Professor Jan Dumolyn (Ghent University, Belgium), bringing together 22 scholars on medieval urban history, from Belgium, the Netherlands and the US. It has been reviewed as "outstanding" because of its "wider significance" for urban history, and its "multi-disciplinary perspective".
In 2019 he was elected treasurer of the New Zealand and Australian Medieval and Early Modern Society. Its bi-annual conference is the largest gathering of specialists in medieval and early modern studies in the southern hemisphere. Professor Brown has been invited by government funding bodies in Belgium and the Netherlands to review major research proposals; and by the European Commission in 2016 to evaluate a two million Euro research project on Healthscaping Urban Europe: Bio-Power, Space and Society, 1200-1500.

Professor Gabriel Eweje - School of Management
Professor Gabriel Eweje is a Director of the Corporate Social Responsibility (CSR) and Sustainability Research Group– a multidisciplinary team of researchers from Massey Business School. Previously, he worked as a Research Fellow at the United Nations University, Institute of Advanced Studies, Tokyo, Japan, and taught for several years at Royal Holloway University of London, England. His PhD from University of London focused on corporate social responsibility and the activities of multinational oil and mining companies in developing countries.
He also worked as a Research Fellow with the International Institute for Environment and Development, London, on a project on how mining and minerals can contribute to sustainable development. His research interest lies around the issues of business ethics, corporate social responsibility and sustainability related disciplines. He has also published his work in international academic journals and presented his research findings at international conferences. Professor Eweje has experience working with business and international management consulting firms on corporate social responsibility and sustainability issues. He is the Editor in Chief at Emerald - Corporate Governance - The International Journal of Business in Society.

Professor Gert Lube - School of Agriculture and Environment      
Professor Lube leads the Physical Volcanology and Environmental Fluid Mechanics research group at Massey University. His research interests include explosive volcanism, physics and sedimentology of natural granular-fluid flows, volcano stratigraphy and natural hazard science.
One of his most influential contributions to his field is the design and leadership of the globally unique international volcanic eruption simulator facility PELE (Pyroclastic flow Eruption Large-scale Experiment), which regularly attracts international visiting scientists from leading research schools. Over the past decade, Professor Lube has been at the forefront of the development of new volcanic hazards models. Through PELE, he replaced long-standing paradigms in volcanology by obtaining the first direct observations on the inner workings of volcanic flows. He also initiated the first international benchmark for volcanic mass flow models.
His research involves working with numerous longstanding stakeholders including the Ministry of Civil Defence and Emergency Management, the Department of Conservation, the Army, and Police, on evacuation plans and procedures straight after eruptions for New Zealand's central plateau volcanoes.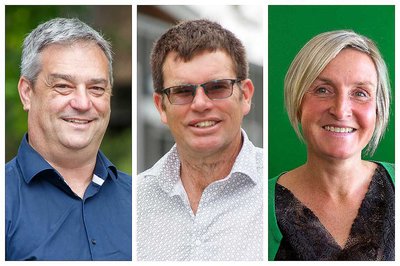 Professor Jonathan Procter - School of Agriculture and Environment      
Professor Procter manages Massey's Volcanic Risk Solutions research group and has contributed to developing and leading national and international research that focuses on volcanic hazard, hazard detection and simulation, and works with communities to increase resilience to natural and environmental hazards. His areas of specialisation span traditional geology and computer simulations of volcanic mass flows through to developing new solutions for communities to build resilience in the face of volcanic hazards.
Professor Procter reports to government agencies on mātauranga Māori, environmental management, and volcanological research, and provides analysis of potential hazardous events to emergencies managers. In 2017 he was awarded a Ministry of Business, Innovation and Employment (MBIE) Endeavour Research Programme to develop new methods of environmental visualisation that bridge mātauranga Māori and western science. This is one of the first times MBIE awarded an Endeavour Research Programme to a team lead by Māori.
Over the last five years, Professor Procter's research and outputs have been applied to numerous real-world practices and events that have seen his role transform from being a researcher developing novel solutions for volcanic hazards to leading multi-institutional teams across New Zealand and beyond. Nationally he has developed new research directions in volcanology, defining volcano hazards research in NZ.

Professor Chris Rogers - School of Veterinary Science
Professor Rogers' research interests include equine biomechanics, equine exercise physiology, equine industry epidemiology, and equestrian sport. His sustained programme of research and teaching has been pivotal in providing the background knowledge needed to describe and improve equine production in New Zealand and internationally. The Ministry of Primary Industries (MPI) bases the New Zealand equine biosecurity framework on his work on biosecurity and industry demographics.
His industry and production systems data was also pivotal in demonstrating the limitations of the current data and models used by regional councils in New Zealand to apply nutrient management plans on commercial equestrian properties. As a result of his expert evidence, legislation has been amended and he is now leading a research programme in conjunction with both regional and central government to develop new nutrient management plans for the equine industry.
Internationally, his work on racehorse training and the benefits of two-year-old training, has challenged long-held dogmas and addressed international welfare concerns of two-year-old training, racing and injury rates. This work formed the basis of MPI and the Food and Agriculture Organization of the United Nations  guidelines on horse welfare and his appointment to the New Zealand Thoroughbred Racing Welfare Advisory Board in 2020. He is currently working with New Zealand Thoroughbred Racing Inc (the governing body for thoroughbred racing in New Zealand) to restructure education within the racing industry (from stable hands and jockeys through to management staff).

Professor Leigh Signal- Sleep/Wake Research Centre
Professor Signal's areas of expertise are in fatigue management and sleep health and she oversees a range of externally funded projects and supervises postgraduate students in these areas.  She trained as a commercial pilot and then completed a Master's degree in Industrial and Organisational Psychology before completing her PhD in Public Health at the Sleep/Wake Research Centre. Her research interests include understanding the role of sleep and fatigue on performance and safety in applied settings, particularly in the aviation industry; understanding the sleep of women across the childbearing years, the relationship between sleep and mental health, and ways we can support women to maintain good sleep health and mental health across this timeframe. She is also interested in the role of sleep in infant, child and adolescent health and development, and the links between sleep and sporting performance and health outcomes.
Professor Signal has provided expert comment for the Coroner's Office, WorkSafe and the Transport Accident Investigation Commission on the role of fatigue in workplace deaths or major safety incidents. She has also provided scientific advice to the New Zealand aviation regulator, contributed to global standards and guidance material produced by the International Civil Aviation Organisation (a UN agency), and has consulted widely on fatigue related issues across many organisations and industries.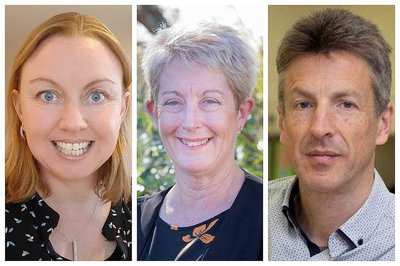 Professor Karen Stockin - School of Natural and Computational Sciences
Professor Stockin is the Research Leader of the Cetacean Ecology Research Group, whose research interfaces marine biology, behavioural ecology, vet pathology and animal welfare science.  Her focus is the application of animal welfare science to human-wildlife interactions. As a current Rutherford Discovery Fellow, Professor Stockin is assessing how AI and animal welfare science can increase the effectiveness of human intervention efforts during mass stranding events.
She obtained her Bachelor of Science (Honours) from the University of Plymouth, and her Master of Science as a European Union Scholar from the University of Aberdeen, United Kingdom. She completed her PhD as a Commonwealth Scholar from Massey University in 2008. Since this time, she has served as the Research Director of the Coastal-Marine Research Group at Massey University.
Professor Stockin was the inaugural Strandings Coordinator (2018-2020) for the International Whaling Commission (IWC) and is the current serving specialist on the IWC Strandings Initiative Expert Panel. Her international engagement on matters of strandings investigation and emergency response is globally recognised. She has been twice nominated (2008 and 2010) for the UNESCO-L'OREAL Fellowship for Young Woman in Sciences, and she is the inaugural recipient of the Bob Kerridge Animal Welfare Fellowship.

Professor Pamela von Hurst - School of Sport, Exercise and Nutrition
Professor von Hurst is Co-Director of the Massey Vitamin D Research Centre which she helped establish in 2010. Her research interests include vitamin D in health and disease, child health and nutrition, bone, metabolic syndrome and physical activity. She is currently co-principal investigator on a study funded by High Value Nutrition, and Auckland principal investigator on a multi-site project funded by the Ministry of Primary Industries.
Professor von Hurst is President of the Nutrition Society of New Zealand. In 2017 she was selected by The Royal Society to represent New Zealand on the International Union of Nutrition Sciences (IUNS), voting on behalf of her profession at the IUNS General Assembly.  She is also co-leader of a NZ/Australian working group to develop a Federation of Oceanic Nutrition Societies, supported by IUNS. She regularly contributes to Government policy through participation in expert panels on vitamin D and food fortification, reviewing Ministry of Health recommendations on vitamin D and sun exposure. She also sat on a Ministry of Health Technical Advisory Group on the Eating and Physical Activity Guidelines.

​​​​​​​Professor Andrew Worth - School of Veterinary Science   
Professor Worth is a New Zealand registered specialist in small animal veterinary surgery and internationally recognised as a Fellow of the Australian and New Zealand College of Veterinary Scientists by examination. His current research interests include working dog orthopaedic disease, lumbosacral degeneration and biomaterials for surgery. His clinical interests include minimally invasive surgery and advanced surgical technologies and his clinical skills are sought after on a national and international level.
Professor Worth is Head of the Small Animal Surgery Service and has introduced surgical procedures new to Massey (including arthroscopy and laparoscopy). In addition, he has pioneered two world-first procedures (computer assisted surgical correction of angular limb deformities and patient-specific stabilisation of the lumbosacral junction using 3D printed titanium implants). He is the convenor for the New Zealand Veterinary Association Hip and Elbow Dysplasia Panels and co-Director of the Centre for Working and Service Dog Health. Professor Worth promotes and facilitates research into disease and welfare conditions of working and service dogs, and his expertise provides support for the NZ Police and NZ Defence Working Dog programs.
Associate Professors
College of Health
Associate Professor Matthew Barnes
Associate Professor Shirley Julich
Associate Professor Tracie Mafile'o       
College of Creative Arts
Associate Professor Warren Maxwell
Associate Professor Rachael Rakena       
College of Humanities and Social Sciences 
Associate Professor Siautu Alefaio-Tugia    
Associate Professor Dianne Gardner        
Associate Professor Matthew Henry    
Associate Professor Jodie Hunter
Associate Professor Darryn Joseph        
Associate Professor Hone Morris        
Associate Professor Philip Steer        
Associate Professor Natasha Tassell-Matamua        
Associate Professor Fiona Te Momo       
College of Sciences
Associate Professor Erica Gee
Associate Professor Rezaul Hasan    
Associate Professor Anuradha Mathrani        
Associate Professor Alexander Melnikov        
Associate Professor Tim Wester        
Associate Professor Catherine Whitby    
Massey Business School

Associate Professor Ralph Bathurst        
Associate Professor Hung Do        
Associate Professor Susan Fountaine        
Associate Professor Matt Roskruge