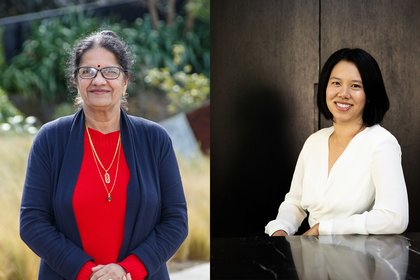 New Zealand has an aging population.
At an infrastructure conference in June, National leader Christopher Luxon half-jokingly encouraged New Zealanders to "have more babies". Regardless of your politics, he points to a very real national challenge we're facing.
Developed countries all over the world – and many emerging economies, too – are grappling with declining fertility rates. The International Monetary Fund calls this trend a "global population bomb". The replacement rate to maintain our current population size in the long term is 2.1 births per woman. Currently, New Zealand's birth rate is at a record low of 1.6 births per woman, down more than 20 percent in the last decade alone.
A shrinking proportion of working-age people will lead to labour shortages and a smaller tax base to invest in the public services we all rely on, such as infrastructure, education, pensions and healthcare.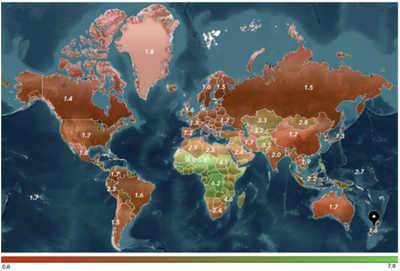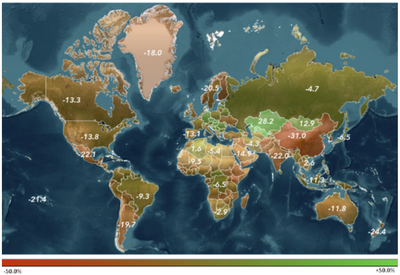 The two maps clearly highlight a looming challenge facing our nation. However, we are yet to see a plan from politicians on either side of the aisle. Unfortunately, the problem is a lot closer than we think. The Education Ministry projects that by 2032 – a mere decade away – there will be 30,000 fewer students on school rolls across New Zealand.
So, where does New Zealand feature in the scheme of things?
We are without a plan.
Like every other country facing this challenge, New Zealand can plug this gap by nudging the birth rate up, improving our human capital or importing talent. It's very likely that we will have to adopt all three approaches.
Unlike many of our high-income counterparts, particularly in Europe and Asia, we don't have an explicit plan. Population policies have a complicated past. Historically, they've been used to reduce the birth rate or restrict migration, often by targeting specific groups of people. In recent times, however, countries with plummeting birth rates have embarked on ambitious plans to boost fertility rates or at the very least, stem the falling tide.
New Zealand has neither a strategy nor strong existing policies to rely on. We are a lumbering ship without a destination or even a map.
Given our consistently falling birth rate, are there any particular reasons that we are not keeping up with population growth required?
Financial barriers to having children are real.
There are a myriad of reasons why people are having fewer children, some by choice, others by circumstance. Increasingly in the latter category is the role that finances play. New Zealanders across the country are feeling the financial pressure, but none more so than parents. It's no wonder that when you look at the graph below comparing the financial wellbeing of different family structures, you might conclude that remaining child-free is the most prudent choice of all.
The combination of lowly paid parental leave and expensive childcare are barriers to employment for parents. Without the ability to earn to their full potential as parents - and faced with the added costs of raising children - a growing number of people are delaying having children or having fewer or none at all.
We risk being too little, too late.
If there's one lesson to be taken from our East Asian neighbours who are now desperately trying to bump up their birth rate, it's that the longer we take to act, the more that having fewer children becomes ingrained in our society. Over time, policy interventions become less and less effective because the decision to have children has less to do with financial feasibility and more to do with social norms and attitudes.
Moreover, New Zealand risks finding itself in a trap where lower birth rates lead to reduced economic output, which creates further financial pressure on parents-to-be, who in turn decide to have fewer children.
What can we as a nation do to 'turn the tide'?
We call on our leaders to be bold this election for the long-term economic and national security of New Zealand.
Support for families with young children – whether that be through paid parental leave for both parents, affordable childcare or wraparound postnatal and early childhood services – can remove real barriers to having children while still respecting an individual's right to choose.
At the very least, it would give the children we do have a better shot at reaching their full potential and provide them with more reasons to stay in New Zealand to make their contribution to this nation. Because at the rate we're going, we will need every one of them to be contributing members of society.
Acknowledgements
This paper was co-authored by Dr Pushpa Wood ONZM and StephaniePow, with contributions from Dr Adnan Balloch.
Wednesday 2 August 2023
Findings from the third stage of a 20-year longitudinal study run by the Financial Education and Research (NZ Fin-Ed) Centre show young New Zealanders are growing their financial capability as they move into a new life stage – but women are still behind their male counterparts.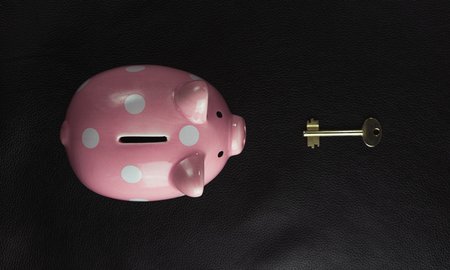 Tuesday 6 September 2022
Retirement planning remains as important as ever for New Zealanders with inflation becoming a significant factor to take into consideration.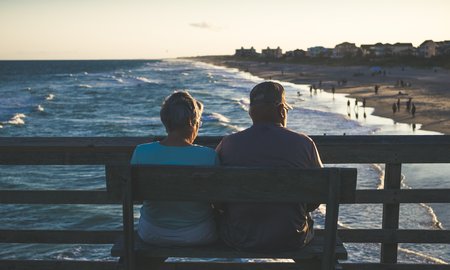 Wednesday 19 August 2020
Our five million-strong population is riding a wave of unprecedented social change - from plummeting birth rates and a burgeoning number of older people to Auckland's surge as an ethnically diverse supercity.