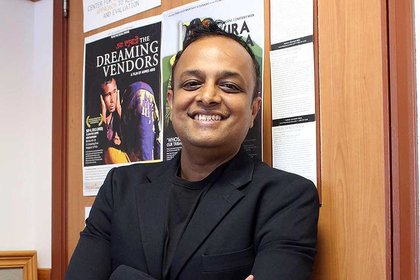 Last updated: Friday 25 November 2022
Professor Mohan J. Dutta of the School of Communications, Journalism and Marketing and Centre for Culture-Centred Approach to Research and Evaluation (CARE) has been named as a 2021 Distinguished Scholar by the National Communication Association (NCA).
Presented annually, the Distinguished Scholar award is the NCA's highest accolade. It honours a lifetime of scholarly achievement in the study of human communication. Recipients are selected by their peers to showcase the best of the communication discipline.
The NCA's citation for Professor Dutta's Distinguished Scholar award notes, "Prof. Dutta's research examines the role of advocacy and activism in challenging marginalising structures, the relationship between poverty and health, and the ways in which participatory culture-centered processes serve as axes of global social change, among other topics. Prof. Dutta's research programme includes 10 books, over 200 articles and book chapters, and has been cited over 12,000 times. Prof. Dutta provides extensive intellectual leadership; they have directed 46 doctoral dissertations, facilitated numerous workshops, and served as editor of the Journal of Applied Communication Research."
Over a span of two decades, Professor Dutta has developed a culture-centered approach to research and evaluation through his justice-driven communication scholarship carried out with communities at the "margins of the margins" across the globe. Spanning 17 countries across four continents, the impact of his scholarship is felt in communities experiencing structural deprivation, through the creation of infrastructures for voice, participation and community democracy.
The programme of research led by Professor Dutta has created community development solutions, designed material infrastructures such as community-owned food systems, hospitals and educational infrastructures, led community-owned advocacy and activist campaigns, and guided public policy.
Professor Dutta also built and is the director of CARE, which has carried out over 50 community-led social change projects across the globe. Such projects have worked with indigenous communities, low-wage migrant workers, refugees, sex workers, precarious workers, domestic workers, rural communities, communities experiencing poverty, disabled communities, rainbow communities, minority communities, ageing communities and farmers. The activist-in-residence programme at CARE, white papers and community dialogues that have been created provide anchors for structural transformation.
The framework of the culture-centered approach has been recognised as one of the most significant theories of communication, reflected in the Charles H. Woolbert Research Award, which is given to a "journal article or book chapter that has stood the test of time and has become a stimulus for new conceptualisations of communication phenomena." Professor Dutta's work with landless, oppressed caste women farmers in Telangana has been recognised with the NCA Golden Anniversary Monograph Award.
Upon hearing of his recognition as a Distinguished Scholar, Professor Dutta says, "the significant challenges of health and wellbeing, poverty, inequality, climate change, food security, access to clean drinking water, and peace and social cohesion outlined in the United Nations' Sustainable Development Goals call for creative solutions built through community leadership and participation. I am humbled with this recognition as it speaks to the transformative power of communication, and particularly of voice infrastructures at the margins in leading the processes of structural transformation."
In carrying out this work, Professor Dutta has educated, mentored and nurtured over three generations of students, community leaders, and activists, many of whom represent marginalised identities. His mentorship of scholars from the global south has been recognised with the International Communication Association (ICA) Aubrey Fisher Mentorship Award. Earlier this year, he was also recognised with the NCA's Health Communication Division award for outstanding contributions to promoting equity and inclusion.
In 2015, Professor Dutta received the ICA Applied Public Policy Communication Researcher Award. He is also an ICA fellow.
Professor Dutta will be receiving the Distinguished Scholar award at the NCA's 107th Annual Convention in November.