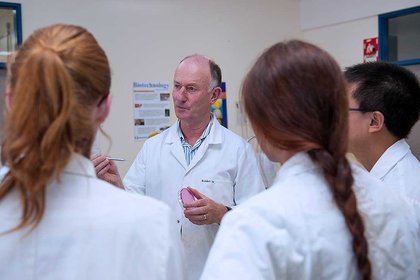 Last updated: Monday 21 March 2022
Professor Steve Flint, from the School of Food and Advanced Technology, has been awarded the New Zealand Microbiological Society Distinguished Orator Award for 2021.
This award is given annually by the society to recognise an outstanding contribution to the microbiological community, for research, teaching and service.
The Professor of Food Safety and Microbiology began at Massey University's Manawatū campus in 2008, after spending 20 years with Fonterra as a food microbiologist.
He has helped 24 PhD students complete their doctoral theses as chief supervisor. Head of the School of Food and Advanced Technology Professor Julian Heyes says, "Steve's combination of industry experience, academic excellence and a self-avowed passion for science have culminated in this award."
Professor Flint says it was an honour to receive the award, as voted by his peers. "It is recognition of the work of many people who have supported me over the years, both academics and members of the food industry."
He teaches into the food technology degree in New Zealand and Singapore and supervises a team of research students in food microbiology, specialising in biofilms.
This award builds upon prior recognition with Professor Flint being awarded the Massey University Supervisor Research Award in 2014 and the Massey University Research Medals Team Award in 2017.