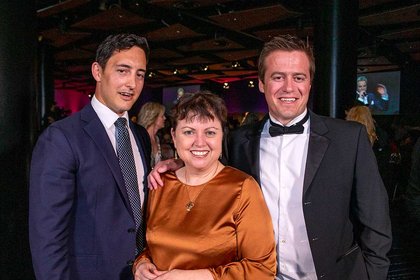 Last updated: Friday 29 April 2022
A company that produces texture-modified products to enhance the quality of life for people with eating difficulties has been named the Massey University Supreme Award winner at this year's New Zealand Food Awards.
The Pure Food Co also won the James & Wells Business Innovation Award, with judges saying the company showed an impressive level of collaboration with target customers to understand consumer needs and realise the benefits of intellectual property to build a trusted brand.
The Auckland-based company was co-founded by Sam Bridgewater and Maia Royal in 2014 after a family member of Mr Bridgewater's became so ill he could no longer eat solid foods. Products are supplied both nationally and internationally to hospitals and rest homes as well as direct to consumers. The nutritional benefits and quality of the food is achieved through collaboration with chefs, dietitians and food technologists.
"We're honoured to get this award. It's something we had hoped to win in the past, so getting it tonight is unreal," Mr Bridgewater said.
"Every day we try and put our feet in our consumers' shoes, our elderly customers. We try to think about what makes a better meal for them and how we can improve their nutrition."
The company previously won two New Zealand Food Awards categories – the Massey University Health and Wellness Award in 2015 and the Ministry for Primary Industries Food Safety Culture Award in 2017.
The judging panel said The Pure Food Co met all of the criteria for selection of a Supreme Award winner, judged against the three themes of innovation, excellence and sustainability.
"The judges agreed that this company demonstrated best practice in terms of its growth and strategic direction, market development and product development processes, and nutritional and health impacts."
Judges stated that the products were innovative and of extremely high quality. "From a social sustainability perspective, The Pure Food Co proactively engages in upskilling health care professionals as well as their own staff, and from an environmental sustainability perspective, they seek to manage the environmental impacts of their processes."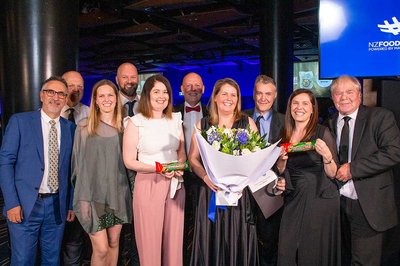 New award for lifetime achievement
The New Zealand Food Awards have celebrated New Zealand manufactured products, focusing on innovation and excellence, since 1987. Sponsored by Massey University, they are open to small and large food and beverage manufacturers, primary food producers, food service providers and ingredient supply companies.
This year, for the first time, a Product Lifetime Achievement Award celebrating New Zealand products that have withstood the test of time, was presented. The inaugural winner was The Griffins Food Company for its iconic Gingernuts biscuits. Finalists were Goodman Fielder for pantry staple Edmonds Baking Powder and Kraft Heinz for Watties Tomato Sauce.
The judges said the fact the finalists' products were still on the shelves was proof of the impact of the initial innovation and the ongoing quality control that made them trusted brands. The winner was both innovative in its day and strong enough to hold off challengers over the years.
Tracey Seagar, marketing and innovation manager at Griffins, said it was "amazing" to be the first winner of the award.
"What we love is that everyone has a story about Gingernuts and when you work at Griffins you hear them all, so we definitely have a place in Kiwis' hearts," she said.
Massey Vice-Chancellor Professor Jan Thomas, who presented the Supreme Award, congratulated all the finalists and award category winners. "Each year we see a lift in quality and innovation that makes the job of our judges so much harder – and that is exactly what we want for success of the New Zealand food industry," Professor Thomas said.
The New Zealand Food Awards expert judging panel includes celebrity judges Bite magazine's Ray McVinnie, chef Geoff Scott and World Kitchen television host and chef Nici Wickes, along with some of New Zealand's best technical and packaging judges
Apart from Massey University, as principal sponsor and event organiser, the awards are made possible with the support of New Zealand Food Safety, Countdown, Cuisine Magazine, James & Wells, The Intermedia Group New Zealand, Eagle Protect, Palmerston North City Council, FoodHQ, New Zealand Trade and Enterprise, The FoodBowl, Z Energy, Villa Maria and The FoodPilot.
Winning products earn the New Zealand Food Award's quality mark to highlight the superiority of their products to both shoppers and industry.
For more information, visit www.foodawards.co.nz
2019 New Zealand Food Awards winners 
Massey University Supreme Award: The Pure Food Co
Product Lifetime Achievement Award: The Griffins Food Company - Gingernuts
The Shout Alcoholic Beverages Award: The White Sheep Co – Sheep Milk & Honey Gin
Cuisine Artisan Award – winner: Poaka New Zealand Ltd – Poaka Coppa 60g Platter Pack
Cuisine Artisan Award – runner up: Bellefield Ltd – Cultured Butter Miso Flavour
James & Wells Business Innovation Award: The Pure Food Co
Chilled/Short Shelf Life Award, in association with Eagle Protect: The TATUA Co-operative Dairy Company Limited – Tatua Cooking Cream
New Zealand Food Safety Primary Sector Products Award: Kiwi Quinoa Limited – Retail Pouch of Wholegrain Quinoa
Frozen Award, in association with Palmerston North City Council: Waitoa – Premium Chicken Fillet Burgers Ancient Grains
Countdown Grocery Award: Proper Crisps – Proper Crisps Purple & Gold Potatoes with Cracked Pepper & Sea Salt 
Massey University Health and Wellbeing Award: Kim's Kitchen – Gluten Free Chicken & Coriander Dumplings
Non-Alcoholic Beverages Award: WNS Group – WDOM 5.0% Fat Longlife Creamy Whole Milk
Novel Food or Beverage Award, in association with Z Energy and The FoodBowl: The White Sheep Co – Sheep Milk & Honey Gin