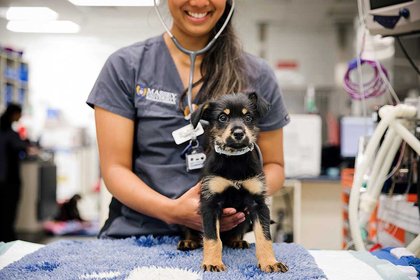 Last updated: Tuesday 29 March 2022
Massey University's School of Veterinary Science has climbed into the global top 20 in the latest QS World University Rankings.
The new results see the school up an additional nine places, from 28th in the 2020 results, to 19th in 2021.
Head of School of Veterinary Science Professor Jon Huxley says a world top 20 ranking is fantastic news for students, staff, the school and the university.
"It is a remarkable performance for a veterinary school in a small, geographically remote nation like New Zealand."
Professor Huxley says within these rankings the school is ranked particularly highly in employer reputation.
"Our graduates are known around the world for their practical skills and approach. At the same time, we have an excellent academic reputation amongst our peers and we are strong in veterinary research."
The current intake of domestic students is 100 per year plus an additional 25 international students each year.
Alongside everyday academic functions found within the school such as teaching, research and administration, the school also operates a Veterinary Teaching Hospital offering services to the public in three areas; small animals, horses and farm animals. In addition, the school established and operates the Wildbase Hospital which serves New Zealand's wildlife and native species. The teaching hospital services cover anything from normal day-to-day problems to more complicated cases referred to the school by other veterinarians for specialist treatments.
Contributing to the success of the school's research excellence and reputation has been many behind the scenes projects, including a recently commenced project to renew and rebuild all facilities. This decade-long project will see a major overhaul of the school's main buildings, which date back to the founding of the school in the early 1960's.
The completed Phase One of this work includes the new Veterinary Science Building, the Wildbase Hospital, Equine Hospital and Production Animal Isolation Unit, as well as a significant redevelopment of the existing Large Animal Teaching Unit, Companion Animal Intensive Care Unit and Sterile Supply.
Phase two is currently underway and will result in four principal new facilities: a Pathology Facility, Farm Animal Hospital and two large practical teaching laboratories.
With building work for phase three scheduled to start in 2022, there will be a new multi-purpose teaching laboratory, faculty research laboratories and offices and a student amenities centre at the school.
Phase four will include a number of renovation aspects and the overall completion date is expected for the end of 2024.
Professor Huxley says he is incredibly proud of staff, particularly given the current challenges of trying to rebuild the School and cope with the COVID pandemic.
"Our performance reflects their dedication to deliver an excellent learning environment for our students, and to project our research and veterinary expertise globally."
The ranking results coincide with the university maintaining its elite ranking with QS as a 5+ Star university. The university also retains its 5+ Star rating in individual categories; teaching, employability, research, internationalisation, facilities, online learning, arts and culture, innovation, social responsibility, inclusiveness and a specialist criteria being Veterinary Science.