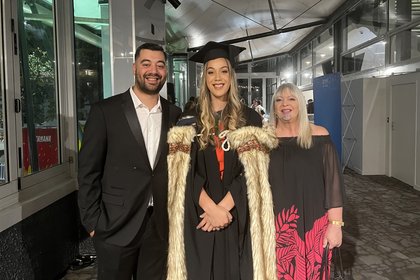 The goal shoot, who also captains the Northern Stars, recently graduated with her Bachelor of Communication, majoring in Public Relations, with a minor in Media Studies.
"I felt like I didn't see enough Māori in this space and wanted to be a role model for my whānau that they should push for more representation in fields such as this," she says.
"I am the youngest of four and the first out of my siblings to graduate from university, which is really special," she adds.
Maia studied via distance, and on the Wellington campus when she was there, and she says it's not been an easy juggle.
"Being a full-time athlete, I knew I needed a university that could understand my sporting ambitions and commitments and be supportive. I found Massey so great in understanding this and it's such an athlete-friendly institution. All my lecturers and programme coordinators ensured I was well supported throughout my study journey."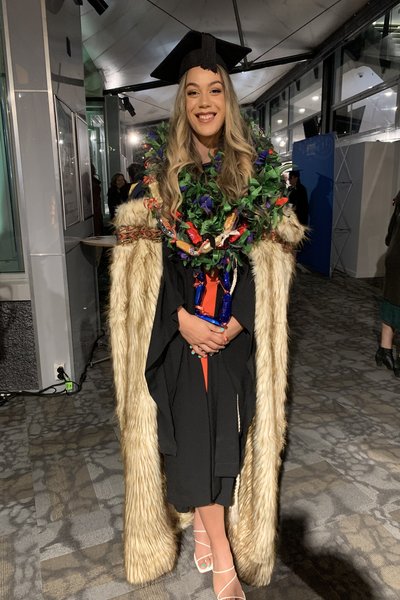 Organisation has been key, she adds.
"I've had to be very organised and stay on top of my study workload in between travel and trainings. Often, I would be studying on the plane to my next game and there were definitely a few late nights completing assessments. Massey was so supportive of my sporting commitments and I found lecturers were very understanding if I needed extensions or support to do assessments online that would be traditionally internally assessed. Massey made my study journey enjoyable rather than stressful."
Maia has recently picked up some work as a Communications Advisor for Big River Creative, a Māori creative agency.
"I love being able to work in a space that can benefit my people and put their voice first. Not only do I get to be a full-time athlete but also dabble in a bit of work so I can best prepare for life after netball. I've been dabbling in a few different things from marketing government funded campaigns, organising influencers, developing social media strategy and digital marketing. Other aspects of my job are producing digital content and interviewing key stakeholders."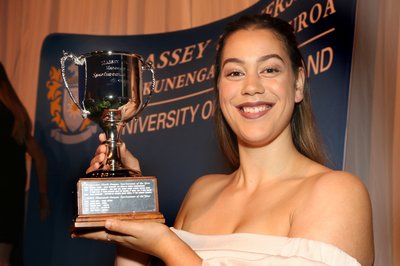 But Maia's study journey doesn't end here.
"I do plan to study for my masters over the next year or so once we've gotten through our two big pinnacle events - the Commonwealth Games and Netball World Cup."
It's been a busy few years for Maia, who has now settled in her home town of Auckland.
"I have spent the last six years living between Auckland and Wellington, moving every six months, but I've finally decided to settle in Auckland so I can be closer to my whānau, hapu and iwi which are based in Māngere."
So what does she do with her very limited spare time? A lot of Netflix and bed, she jokes.
"My favourite place in the world is my bed and just relaxing. Due to the nature of my job and travelling with netball, I really love just being in one place and chilling out in my own space. I also love going out and eating good food with whānau, especially the Otara Flea Markets which have my favourite food in the world - steak and egg fried bread."
Wednesday 13 October 2021
New Zealand's most successful Olympian and Canoe Sprint champion Lisa Carrington has been named the inaugural winner of the Massey University Blues Sports Awards Supreme Award for 2021.