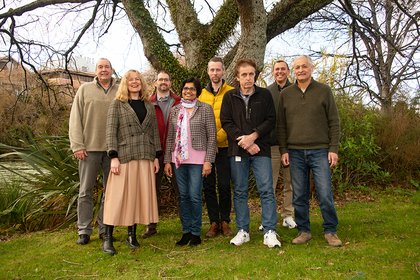 A research collaboration involving scientists from Massey University, AgResearch and New Zealand science company Flowjoanna has discovered a signal that indicates when human cells are infected with the parasite Cryptosporidium.
Cryptosporidium has been identified as the second most common cause of diarrhoea in infants, with one study reporting approximately 83,000 children under five died globally due to diarrhoea caused by this parasite. There are currently no vaccines for the disease.
Different Cryptosporidium species infect people more or less frequently, and the lack of understanding of the biology behind these differences and lack of vaccine is partly due to there not being an effective laboratory system for Cryptosporidium culture.
In this study, the research team used a relatively new human cell line and three tools – flow cytometry, microscopy and transcriptomics - to understand the way the parasite infects cells. A novel signal was identified that could be detected by the most cutting-edge flow cytometry tools, which the team named 'Sig M'.
Director of Flowjoanna, Joanna Roberts, says Sig M is a giveaway for the parasite's hiding place in the human cell.
"It's important to get to know your enemy, so we had to find a way to study how it infects human cells by growing human cells in the incubator, then infecting them with the parasite. We needed a way to measure if the cells were infected or not and our plan involved a complex staining technique taking hours and costing hundreds of dollars."
She explains that an exciting 'secret message' moment happened when the team found that some of the human cells in the infected samples seemed to have a light signal that could be seen on the spectral cytometer (a cell identifier instrument), even without the complex straining approached they had planned to use.
"With a bit of sleuthing, we discovered that this light signal was linked to the parasite. It was like a moment from childhood when you discover magic invisible writing that only shows up when you shine a special light on it! The science team behind this discovery led to creativity and cross-pollination of ideas that was uniquely rewarding. Finding Sig M was super fun and totally unexpected."
Professor David Hayman from Tāwharau Ora School of Veterinary Science, who is part of the research team, says finding Sig M may help future research into this infection.
"Our work showed for the first time that a natural auto-fluorescent signal linked to Cryptosporidium infection can be detected in infected host cells without any fluorescent labelling strategies. We've also found that the COLO-680N cell line and spectral cytometry could be a useful tool to advance the understanding of Cryptosporidium infectivity."
Transcriptomics analyses were performed with AgResearch's NanoString Facility.
AgResearch Principal Scientist and research co-author Dr Axel Heiser says, "NanoString technology is a powerful tool used in biomedical research and diagnostics. By attaching unique barcodes to each gene of interest, these molecules can be counted accurately and quickly."
The results were published in Frontiers in Cellular and Infection Microbiology in May this year, meaning the finding can be used by other researchers to help anti-parasite research globally.
The results were also presented at CYTO, the annual cytometry conference in Canada in May.
The full research article is available here.
Thursday 26 May 2022
A new research paper identifies locations of bats that may host coronavirus based on climate, native forests, and caves where these bats inhabit.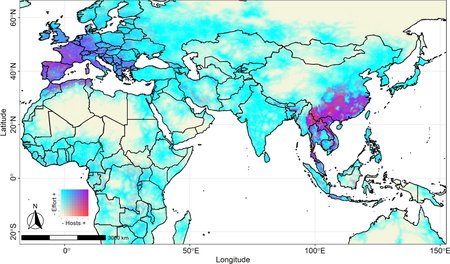 Thursday 3 February 2022
Building on Massey's expertise in epidemiology and public health is the aim behind a position that has been newly established by the Massey University Foundation.
Friday 12 November 2021
The Ebola virus outbreak in West Africa killed thousands of citizens including doctors, nurses and midwives and now Massey is helping to design and facilitate online training for staff in Liberia so they can better understand emerging infectious diseases.