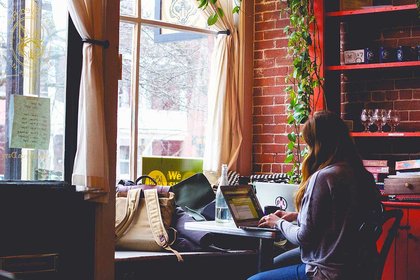 Last updated: Friday 1 April 2022
Online learning is just one feature of a brave new world for the pandemic-hit planet as millions configured a 'new normal', switching to Zoom and other online platforms. Suddenly we were doing it all online – work meetings, counselling, Friday drinks, funerals, shopping, entertainment, education and more.
But for thousands of people, studying by distance has been a behind-the-scenes game changer well before COVID-19 struck. Originally known as extramural – 'outside the walls' – distance study (now called 'online') has been available and evolving for the past six decades at Massey University. 
From actors and film makers to social entrepreneurs doing humanitarian work in developing nations, Olympic athletes and rugby players, politicians and business leaders, farmers and stay-at-home parents – Massey's distance learning offerings have been transforming lives for almost 60 years.
In essence, distance learning has enabled people of all ages, locations and backgrounds to embrace life-changing study, often in the wee small hours after the dishes are done and the kids are in bed. Or, perhaps in a prison, on a plane, or hotel in a far-off country. It's meant you don't have to live in a university city to get a tertiary-level education – you could be in the Far North or the Southern Alps. 
Nelson-born independent film-maker David Cranstoun Welch studied social anthropology for a Bachelor of Arts by distance while making films in New York and Los Angeles that screen in international festivals. Course readings led to his latest project – a documentary called How Forests Think. He's been filming an Indigenous tribe in Ecuador about their quest to preserve their natural environment. 
Hayley Morrison launched the Motorbike Book Club – a charitable trust delivering books to children in some of Vietnam's poorest villages – while studying by distance for a Master's in International Development.
For National Party leader Judith Collins, who graduated this year with a Graduate Diploma in Occupational Health and Safety, flexible online learning at Massey enabled her to gain a deeper understanding of health and safety issues that inform law and policy decision-making in Parliament.
Being able to study flexibly around family, work, travel, training or community obligations is all very well. But the key to success goes deeper than a technological transfer of knowledge from lecture theatre to computer screens. It relies on academics understanding that their students juggle numerous pressures, says Massey's Dr Ella Kahu, a passionate champion of what's now referred to as online learning.
Wellington-based Dr Kahu began her academic career doing one undergraduate psychology paper by distance in her early 30s when her children were aged two and four. She knows the territory well. She started before the digital era and took eight years to complete her BA. By then she was hooked and went on to do a PhD on the experiences of first-year distance students. Her research has led to many journal articles as well as the Kahu Framework of Student Engagement, and an Apple podcast.
Technology, teaching and the attached semantics have evolved together – students might be geographically dispersed, but they don't need to feel 'distant' thanks to the array of online platforms, apps and learning support, as well as online contact with lecturers, tutors and mentors, she says.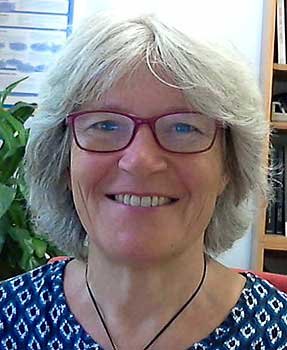 Then and now
In the beginning, extramural students in the 1960s received hefty packages of photocopied course material and textbooks via snail mail. They posted back their hand-written assignments and attended regular contact courses on campus. 
David McNab, president of the independent association for distance students M@D (Massey@Distance) relays stories of distance students in the pre-digital era "breaking the speed limit to get to the physical post box on the Palmerston North campus before 9am when the postbox was cleared. It was an official essay drop box – there was a lot of burned rubber up and down the highway!"
Then came the fax machine – and the inevitably jammed-up fax lines. "There'd be the 17-page essay and halfway through page 16 it would choke, and you'd have to start the whole thing again."
Stream (Massey's learning management system) brought distance learning into the digital era. Public platforms such as Facebook have revolutionised the ability of students to connect with and support each other, says Mr McNab, who has a Bachelor of Business Studies and is doing postgraduate study.
This legacy means Massey's name is synonymous with distance aka online education as its heartland and core business. So, it's no surprise that in 2020, more than half its students are enrolled to study fully or partly online, the highest proportion in the humanities and social sciences. 'Blended learning' is now the buzzword for a new era as the boundaries between internal and online teaching dissolve and courses are offered across a 'continuum' from fully online to fully on-campus with aspects of online support.
However, the idea that you could gain a formal academic education outside the walls of the Ivory Tower­ – whether you live in a lighthouse, a loft, rural heartland or suburbia – took a while to gain credence.
History professor Michael Belgrave, whose research on extramural learning is referenced in his landmark  history of Massey, From Empire's Servant to Global Citizen, says; "what was called 'extramural education' gave people who could not aspire to go university for all sorts of reasons, the opportunity to get educated in ways that they wouldn't have otherwise, particularly women at home."
Massey's experience means; "we know what we're doing – because we've been doing this since the '60s," says Professor Belgrave. "We adapted with changing technology. But the most important thing is that we have this long tradition of supporting students at a distance, of knowing what their needs are, and working with them to meet their goals. And that requires a lot more flexibility on the part of the lecturers who are providing the teaching."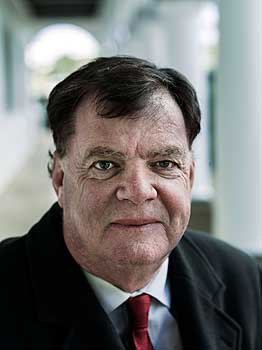 Technology and teaching 
What does distance study look like in the 21st century? After all, many higher education institutions now offer short, free online courses or MOOCs (massive open online courses) and online micro-credentials.
Duncan O'Hara, Director – Learning and Teaching, has over 20 years' experience in the field, from first-hand experience of being a distance student to the present where he oversees the university's learning and teaching activities and academic support for students.
"Massey's had over 50 years in the game, and as the only New Zealand university with a comprehensive distance offer it means that people can rely on us for providing a broad educational offer, a quality educational experience that is deeply rooted in the needs of distance students."
Among changes and trends since the early days of extramural offerings, he notes online learners are getting younger, with most aged between 29 and 40. However, many are well into retirement age – such as Jo Rimmer, who graduated with a BA last year aged 86. 
Massey's distance programme has students studying from almost every corner of New Zealand and from across the world. Mr O'Hara says many of Massey's Māori and Pasifika students enrol to study by distance. "For many of these students they have family, community and work responsibilities, and, distance education is seen as the access point to allow them to maintain these commitments yet still engage with university study. " 
M@D, which grew out of the longstanding Massey University Extramural Students' Society, EXMSS, is developing strategies and tools to improve distance student engagement, including dedicated support for people studying while managing anxiety or depression, with disabilities or neuro-diverse conditions such as autism and dyslexia. And Massey University Students' Association (MUSA), based on the Manawatū campus, provides advocacy for distance students. Izzy Mickleson is a registered social worker who supports students with "anything that disrupts their study, from academic grievances to mental and physical health issues, hardship grants and everything in between." The service also provides support through regional events, Facebook groups and volunteers, as well as a mental health initiative delivered to students weekly through Facebook.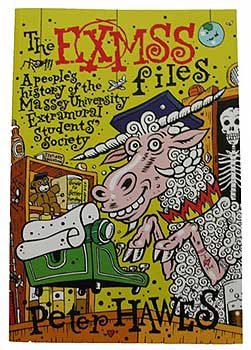 Innovation - abstract ideas and madcap movies 
Innovative lecturers are experimenting with technology to better connect with online learners. Take philosophers Professor Bill Fish and Steve Duffin, who produced a series of comedy videos for Tū Arohae: Critical Thinking, introduced in 2014 as a new Bachelor of Arts core course.
"When it came to delivering this paper for distance, we totally re-imagined this course from the ground up," says Professor Fish.
Rather than full length hour long videos of a lecturer walking around and frequently off camera, learning material is presented in bite-sized chunks on video via Stream, with opportunities for students to actively engage with topics and ideas. They also have access to an online library of files for revision and reference. "The level of engagement is light years ahead of anything we've had in the past," he says.
"Comments from the students are in the thousands," says Mr Duffin, whose natural comedic talent in introducing serious philosophical questions with crazy skits and quirky props has earned him star status. 
He also weaves in motivational or empathetic comments in his online teaching to acknowledge the pressures and realities of the distance students' lives, many of whom are working, parenting or care-giving. One student said on the comments space she was moved to tears of appreciation. "They feel we understand, that we're working with them," says Mr Duffin.
Dr Kahu is adamant that while many of the younger, school leaver-age students seek the vitality and social life of being on campus, online study is the first choice for a more mature demographic.
"It requires a level of motivation less necessary for internal students. I think a distance degree is more valuable because it demonstrates an ability to self-regulate, to self-manage, to time-manage and to juggle. If an employer doesn't want that, they are an idiot!"
She urges prospective students, many who may have not been in an educational setting for a long time, start with one paper per semester. Not all students will succeed. Some will drop out, often because they've taken on too much. "You need to test the water, try it out and ease yourself into this new world."
Choose a paper or subject you are interested in, she urges. Re-entering education after a long time away means acquiring new learning skills, not just getting your head around the course material. "It's important that people see it as developmental, personal learning – not just 'getting a degree'," she adds.
Combining sport and scholarship
Former Black Sticks hockey player Danielle Jones completed a Bachelor of Sport Management, studying by distance in 2010 and 2011 while playing internationally, and completing her degree in 2018 after retiring from professional hockey in 2015. She's now a High Performance Coordinator at Massey's Academy of Sport in Auckland campus and is one of legions of New Zealand's top-ranking competitive sportspeople to combine academic and athletic achievement thanks to flexible distance study options.
"We were always told to ensure we have a plan B and Massey provides that opportunity through its distance learning and its flexible support for athletes," says Danielle. Now being retired and on the other side as one of the High Performance coordinators, she is grateful for the opportunity to support athletes going through what she once did and "assist them with being successful with their studies in and around their training and performing commitments."  
Online students, Mr McNab says, represent "a culture of redemption – it's okay to re-invent yourself. For example, a distance student in her late 40s retrained completely from being in administration to a fully qualified chartered accountant. She's gone from $40K-ish a year to $150K a year, and now is a sole practitioner taking on staff and buying other businesses."
"We defy the norms that how you play out your early 20s defines you," he says.
Dr Kahu says all teaching – not just distance teaching - is about good relationship building. "It's about being responsive to students and their needs, and being friendly, warm and communicative and excited and enthusiastic about the material. That's the thing that makes the difference."
For juicy insights on distance learning, read writer and actor the late Peter Hawes' entertaining book, The EXMSS Files: A People's History of the Massey University Extramural Students' Society (Dunmore Publishing Limited, 2010). "Set in a parallel universe and populated with historic heroes and spiteful villains, it provides an insightful vision of the political manoeuvrings and societal trends that made Massey's extramural programme the premier distance education provider it is today."