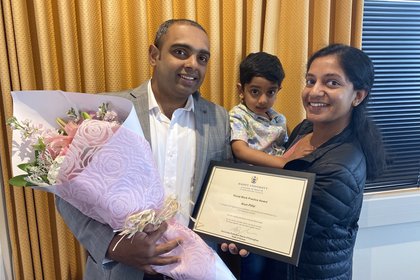 Last updated: Friday 25 November 2022
Social Work Practice Award
Arun Pillai won the Social Work Practice award by exceeding expectations during his placement. Mr Pillai created a beneficial and valuable contribution to the placement agency while upholding the highest levels of professionalism for Massey University.
"I thank Massey for the opportunity provided when I did not know where to turn. I thank my mom, who taught me that there is no wealth more important than the wealth of education. I thank my dad, family, lecturers, and everyone who has touched my life. I feel proud yet humbled to even be here at Massey, let alone this award" says Mr Pillai.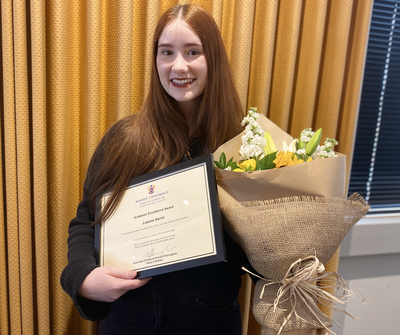 Academic Excellence Award - Bachelor of Social Work Year Four.
Fourth-year Bachelor of Social Work student Leanne Harris was nominated by Social Work and Social Policy staff, she was awarded the Academic Excellence Award for her exceptional collegiate performance.
"I am incredibly humbled to receive the Academic Excellence Award. My Bachelor of Social Work has continually challenged me but I have been truly rewarded with a transformative journey that has given me a pathway forward. I could not have achieved this without the enduring support of my lecturers, cohort, family and friends," says Miss Harris.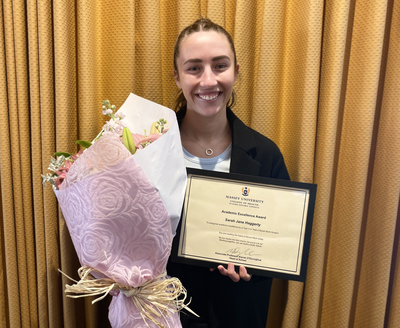 Academic Excellence Award – Master of Applied Social Work Year Two.
Master of Applied Social Work second-year student Sarah Jane Haggerty was also acknowledged for her exceptional overall academic merit for the highest aggregate final mark. Winning the Academic Excellence Award in her cohort.
"I'm thankful that Massey and the lecturers at the school of social work are open-minded when it comes to recruiting students for this course. Other schools didn't look twice at my applications because my undergraduate degree wasn't related to social science. When Ksenija and Hagyun interviewed me two years ago they showed me that my life experience and enthusiasm were valuable, and they believed in my potential.
Their belief in me from day one fuelled my work ethic throughout the degree. This open-mindedness also meant that we had the best class ever, all coming from different backgrounds and bringing unique perspectives and strengths. This degree is one of the best experiences I've ever had. I intend to work as a registered social worker next year, but even if I never pursue that career this degree will have still been worth it for the personal growth I've experienced over the two years and the friends I've made in my classmates." Says Miss Haggerty.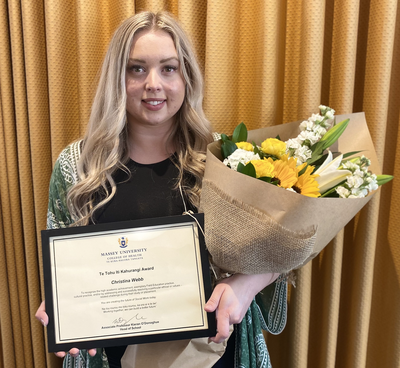 Te Tohu Iti Kahurangi Award
Te Tohu Iti Kahurangi award recipient Christina Webb was nominated for her high academic performance, exceptional field education practice, cultural perspective, and overcoming an ethical difficulty during their study.
"I am so grateful that this social work degree has not only provided the opportunity for immense growth, but also meaningful connections with my peers. I am honoured to be nominated for this award and voted for by them. I couldn't have made it through this degree without them," says Miss Webb.
Friday 21 October 2022
Te Kunenga ki Pūrehuroa Massey University celebrated the annual Blues Awards this week, with Canoe Sprint champion Aimee Fisher taking out the biggest award of the night.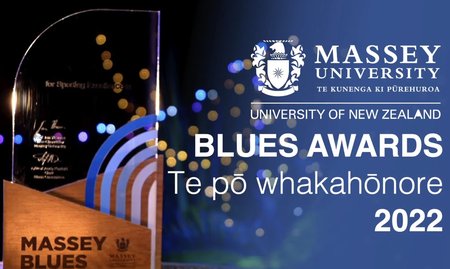 Wednesday 19 October 2022
Ben Orwin-Higgs is one step closer to his dream career of being a rocket engineer thanks to the Dick and Mary Earle Scholarship which will enable him to complete a Master of Engineering.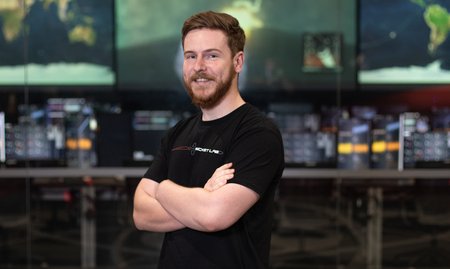 Friday 14 October 2022
Alyssa Cowie has been awarded the Ian Shirley Award, which recognises significant student achievement in social policy courses.