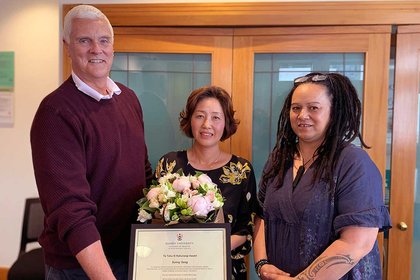 Last updated: Wednesday 6 April 2022
Massey University's School of Social Work recently acknowledged three of its top students from the Auckland Campus at the Student Social Work Awards.
Sunny Song was presented with the Te Tohu Iti Kahurangi Award, which recognises high academic achievement, exemplary field education practice, cultural practice and resolving an ethical or values-related challenge during their study or placement.
Unlike the other two awards, the winner of this accolade is nominated by fellow students. 
Miss Song, a fourth-year Bachelor of Social Work student says being recognised by her peers was humbling. "I still vividly remember the day I received my nomination. It meant a lot to me, particularly as an immigrant with a language barrier, studying in later age and as a mother of two children.  
"I hope by winning this award that I can be a role model for anyone who is interested in studying but may be hesitant because of barriers like age, language or may lack the confidence."
She says while studying social work has extended her knowledge and ability to see issues from different perspectives, the most important element was developing good team work practices, which helps to navigate challenges when difficult situations arise.
Miss Song was awarded $500.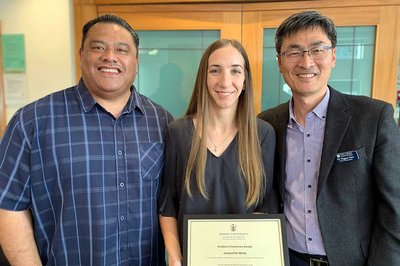 Academic Excellence Award
Fourth-year Bachelor of Social Work Student Jacqueline Henry was awarded the Academic Excellence Award, which recognises academic excellence by a third or fourth-year Social Work Student.
She says she feels very fortunate to have received this award and studying social work has allowed her to learn a lot about herself and her learning style, which she really values.
"I've found each and every one of the papers so important in forming my practice, from the theories and models to the policies and bicultural practice, and everything in between. It's important that we celebrate the achievements of our future social workers and fellow students. Everything we learn shapes us as practitioners and so it will all ultimately trickle back down to the people and groups we support."
Nominations for the award were sought from Auckland campus social work and social policy staff. Miss Henry was awarded $250.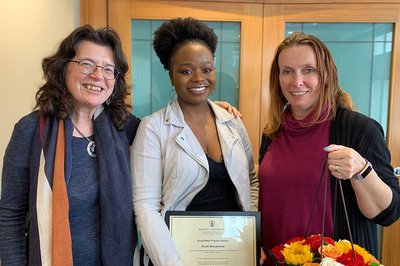 Social Work Practice Award
Rumbi Mutukumira was awarded the Social Work Practice Award, in recognition of her high practice standard, competence and her contribution to the field. Nominations for the award were sought from field educators, external supervisors, placement agency staff and service users. Students were also able to self-nominate.
Miss Mutukumira says studying social work has helped her to become more confident in herself personally and professionally. "Social work is a diverse career, it is not only rewarding but you also learn a lot about yourself along the way. I would recommend to other students to surround yourself with a good support system and don't be afraid to ask for help. Create self-care anchors and work these into your routine."
Miss Mutukumira was awarded $250.