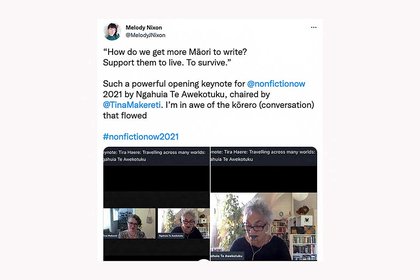 Last updated: Friday 18 March 2022
Last month, Massey hosted the virtual NonfictioNOW 2021 conference – the world's leading gathering in the field of nonfiction creative writing, ranging from book-length works of narrative storytelling, to personal essays, to video, podcasts, and visual arts.
Established in 2005 at the University of Iowa in the United States, NonfictioNOW is considered unique as it's neither a conventional academic conference, nor a writers' festival, but rather an inclusive conversation among peers, from well-established writers to beginners.
Held over three days in early December, the event featured three keynote speakers, 32 live panels, 17 pre-recorded panels and nine hui. There were more than 200 speakers, and 601 registered attendees.
Professor Ingrid Horrocks from the School of Humanities, Media and Creative Communication co-convened the event.
"We were surprised and delighted with the hugely warm and enthusiastic response to the online event, which featured writers from around the world, with particularly strong cohorts from Australia and the United States. One of our keynote speakers, award-winning North American writer Mary Cappello, described it as an experience of 'community, of shared inspiration, new ideas, of literature, art, and resistance, and most of all of creating a bridge in times of struggle and isolation.'
"This year there was a particular focus on environmental and Indigenous writing. Among our speakers were representatives from more than 20 Indigenous nations. Prominent Māori speakers included Ngahuia Te Awekotuku (Te Arawa, Tūhoe, Waikato), Nic Low (Ngāi Tahu), Alice Te Punga Somerville (Te Ātiawa, Taranaki), and Ruby Solly (Ngāi Tahu, Waitaha, Kāti Māmoe). This strand of the conference was curated by Dr Tina Makereti from Victoria University of Wellington. Her involvement was absolutely central to the success of the event.
"Other countries represented included Samoa, Vanuatu, and Rarotonga, as well as the Indigenous nations of Wiradjuri, Goorie/Koori, Tiwi, Larrakiah, Narungga and Yorta Yorta (Australia), Dusun-Murut (Borneo/Southeast Asia), Igbo (Nigeria), and Dine/Ihanktonwan, Metis and Yuma (US)."
Professor Horrocks says COVID-19 meant organisers had to adapt from original plans after Massey won the bid to host the 2020 event.
"We had fully developed plans for an event with an anticipated 400 in-person attendees at Te Papa Tongarewa Museum of New Zealand, when we had to make the decision to postpone for a year. Then, in early 2021 we shifted to a collaboration with the National Library of New Zealand for a smaller hybrid event with Australia and New Zealand attendees, and then we had to move to just hosting those from within New Zealand. Later, in November 2021, the in-person event was cancelled and we moved to planning for a fully on-line event."
The event is permanently archived online. Click here for more information.