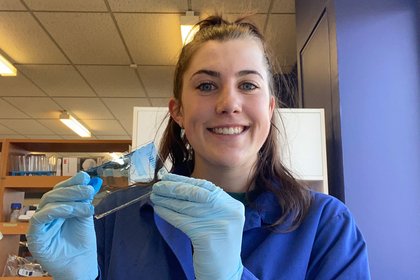 Last updated: Thursday 2 March 2023
A Massey student has won a scholarship worth up to $15,000 from Tiakina Kauri, through a partnership with the Department of Conversation (DOC) aimed at protecting New Zealand's native kauri trees from disease.
Taylah Dagg was one of a group of nine students from around New Zealand who are undertaking research to help address the impact of the climate crisis on biodiversity.
"I am so honoured to be awarded this scholarship. It reinforces the importance of my work which is aimed at protecting these amazing trees from the deadly pathogens that are currently threatening the iconic species," Taylah says.
Studying towards a Master of Science in Biological Science, Taylah's motivation to pursue further study was to be able to help make a real and practical difference in her environment.
"Growing up with a love for science and the outdoors helped build a solid foundation for what I wanted to research," she explains.
Combining her passions for plants and microbiology helped form her 'winning' research topic: Do co-occurring Phytophthora pathogens influence each other in culture?
Taylah says her research focusses on three oomycete pathogens.
"Phytophthora agathidicida – the pathogen responsible for causing Kauri dieback disease here in New Zealand, Phytophthora multivora and Phytophthora cinnamomi, which are species that have been found to be co-occurring in the soil surrounding infected kauri trees and can cause lesions in glasshouse conditions on kauri seedlings."
Taylah says the new knowledge gained from the results of her research has the potential to protect a significant cultural icon of Aotearoa New Zealand, especially important to the cultural identity of Iwi.
The scholarship programme set up by DOC is now in its third year of supporting students that are at the forefront of critical and relevant research.
DOC Chief Science Advisor Michael Bunce says, "The research these students have chosen to embark upon is urgently needed in the face of the dual climate and biodiversity crises. The work is highly topical, and DOC is pleased to support scholarships in these areas."
Wednesday 9 June 2021
Master of Science student Hannah Wykes has been awarded the prestigious William Georgetti Scholarship for her biological sciences research.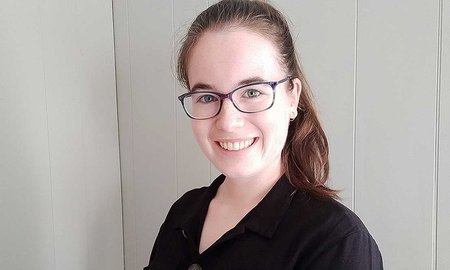 Thursday 7 December 2017
Two Massey students have been awarded two of the eleven highly sought-after Blake Ambassador Awards to further their passion for conservation.