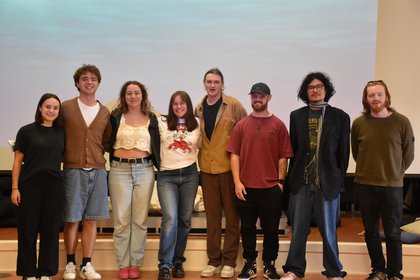 Last updated: Friday 17 March 2023
The students are part of the Creativity in the Community class at the Pukeahu campus in Wellington. They have been selected to receive a Prime Minister's Group Scholarship to Latin America, funded by Education New Zealand (ENZ).
The scholarship funds students' airfares, accommodation, tuition in Colombia, some meals and other expenses, for a cultural and study trip focussed on theatre's power as a tool to communicate cross-culturally to combat climate change.
Professors Leonel Alvarado and Elspeth Tilley wrote the successful application to ENZ for the scholarships and will support the trip by accompanying the students to visit the host institution, Universidad de Los Andes.
The students are currently learning Spanish through Massey's Spanish language teaching programme and rehearsing a short theatre performance about climate change, which they will share with students and staff at Universidad de Los Andes.
Professor Tilley says the students were infusing their performance with the flavours of Aotearoa New Zealand through music and movement, including opening and closing with waiata.
"They are looking forward to sharing ideas from our unique Treaty-based culture in New Zealand, for example ecological values such as kaitiakitanga (guardianship), whakapapa (an understanding of the relationality of everything such that the health of one part of the ecosystem impacts the health of all other parts) and wairuatanga (an acknowledgement and enactment of the spirituality inherent in the natural world) with the Colombian students, and learning about Colombian sustainability concepts in return."
She says that although it may seem counterintuitive to travel on aeroplanes to learn about climate change, enhancing students' sense of themselves as global citizens was crucial to finding future solutions to global warming.
"The climate is a global issue and we need to learn to cooperate and understand each other at a planetary level to combat it."
Professor Alvarado said New Zealand and Colombia shared many commonalities.
"Both countries have a rich but threatened biodiversity, strong Indigenous cultures, vibrant and socially-engaged artistic heritages and diverse cultural and linguistic landscapes. They also share a future affected by climate change."
Students will explore these shared interests from different viewpoints, focusing on how artistic traditions can be harnessed cross-culturally as positive forces in social and cultural responses to climate change. The programme will enrich participants' global outlook and strengthen existing cultural, artistic, commercial, academic and diplomatic relationships between New Zealand and Colombia.
Students Irihapeti Moffat and Chris Parkinson say they are looking forward to good coffee and making new friends.
Student Jesse Brady says, "I can't wait to head off to Colombia. I've never been to South America before and I can't wait to see what the people are like, the culture, the food, the scenery, the university, just honestly cannot wait to get into the airport, on that plane and hang out with everybody that's going. I have never committed myself so much to a piece of theatre before and I'm really enjoying pushing myself and trying something new - especially the extra challenge of doing it in a different country."
In Colombia, students will take Universidad de Los Andes courses in movement and theatre and a Spanish course tailored to their level of proficiency. Academic credits from the work undertaken in both New Zealand and Colombia will be applied to the students' university programme, to ensure their international work counts towards their degree.
Thursday 21 July 2022
Dozens of Massey students will have the opportunity to deepen connections with Asia and Latin America after Education New Zealand Manapou ki te Ao (ENZ) awarded the university five group programmes for the Prime Minister's Scholarships .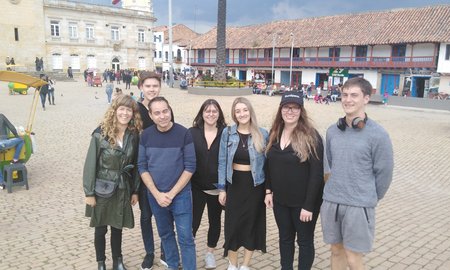 Thursday 29 March 2018
Secondary school Spanish language teachers from across New Zealand are about to add a Colombian accent to their teaching techniques.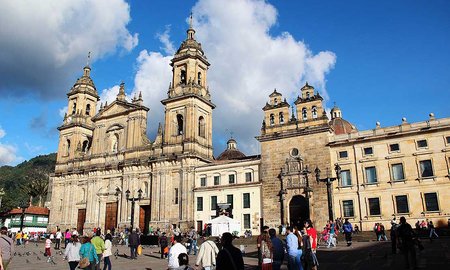 Thursday 5 January 2017
Sharing and comparing experiences of colonialism, indigenous language revitalisation and art will be the focus for a group of New Zealand and Colombian students and academics, thanks to a Prime Minister's Scholarship.