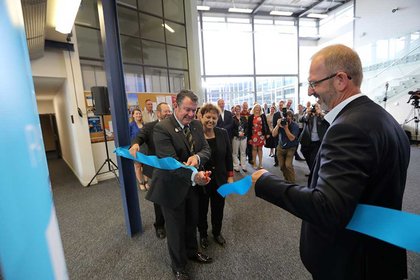 Last updated: Wednesday 17 August 2022
Synlait Palmerston North was officially opened last week on Massey University's Manawatū campus.
Synlait is a dairy processing company which employs more than 550 people in Canterbury, Auckland, and now Palmerston North.
The Palmerston North team, based in the Riddet Complex, will primarily concentrate on innovative dairy liquid product development, as well as supporting processes and technology.
Vice-Chancellor Professor Jan Thomas opened the facility and highlighted the important new relationship between Synlait and the University.
"The establishment of Synlait's new Research and Development Centre at Massey's Manawatū campus is an excellent example of industry and the University collaborating closely to achieve real, tangible outcomes," Professor Thomas said. 
"Strategic partnerships like these are vital if we are to start and grow new industries, create new jobs, and remain competitive in the global marketplace. Massey University is New Zealand's premier provider of food research and education, and at the forefront of pioneering such partnerships with the food industry," she said.
Synlait managing director and chief executive officer John Penno said, "We're very excited to be opening Synlait Palmerston North today, which is home to our new Research and Development Centre. 
"We have some major opportunities in front of us. With the strong team and partnerships we've got in place to lead liquid innovation within our business, we won't miss a beat," Mr Penno said.
The team of 35 staff members will work within the Research and Development Team, but this will continue to grow as Synlait Palmerston North ramps-up its operations. 
Among attendees were Palmerston North Mayor Grant Smith, FoodHQ chief executive officer Dr Abby Thompson, and Distinguished Professors Harjinder Singh and Paul Moughan of the Riddet Institute.