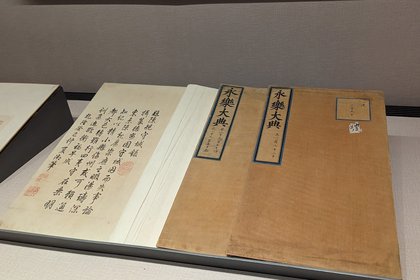 Last updated: Tuesday 22 August 2023
Massey staff from Chinese Studies and Applied Linguistics have contributed to four chapters in the recently published book, Teaching Chinese in the Anglophone world: Perspectives from New Zealand by Wang and East (2023).
The book is the first to provide a comprehensive overview of the history and current landscape of Chinese language teaching in Aotearoa New Zealand. Massey has a long history of offering dual-mode (face-to-face and distance) Chinese studies as a specialisation in the Bachelor of Arts since 1989.
Senior Lecturer Dr Grace Yue Qi says, "The chapters were the result of years of research-informed online Chinese language learning, teaching practice and innovation."
Dr Qi is an applied linguist in the areas of plurilingual education and Technology-Enhanced Language Learning (TELL).
"In light of emerging and ubiquitous technologies that have empowered language education, Massey researchers specialising in Chinese language and culture and Applied Linguistics contributed to this book by presenting their work arising mainly from two important projects that they have been involved with over a number of years," Dr Qi says.
One of these projects is the Synchronous One-to-One Chinese Online Language Teaching (SCOLT) project supported by Massey and Beijing Language and Culture University's joint Centre of Applied Linguistics. This brings together Chinese learners from Massey and trainee Chinese teachers from Beijing.
The other is the ongoing China in-country study exchange programme funded by the Prime Minister's Scholarship for Asia which is funded by the New Zealand Government and administered by Education New Zealand Manapou ki te Ao (ENZ). This has provided opportunities for learners to have an immersive Chinese experience in leading Chinese universities.
The chapters that Massey staff contributed to are:
New Zealand Learners and Chinese Tutors Co-constructing Learning/Teaching Environments in Videoconferencing Sessions by Yanqun Zheng, Gillian Skyrme, Cynthia White (Pages 261-277)
Enhancing a Distance Chinese Teaching Course in New Zealand by Yanqun Zheng, Cynthia White, Gillian Skyrme (Pages 279-292)
Virtual Peer Mentoring for Language Teacher Professional Development: A Framework Towards the Aotearoa/New Zealand Context by Grace Yue Qi (Pages 293-309)
A Sociocultural Study of Learning Strategies of New Zealand Learners of Chinese During Study Abroad by Michael Li, Yuanman Liu (Pages 327-340).
"This book, and the solid evidence-based research it is based on, is a great contribution to the teaching of Chinese in Aotearoa New Zealand. We hope the Massey researchers' contributions will be valuable to Chinese and other language teachers, teacher educators and learning designers in nurturing the diversity of learners in a digital age," Dr Qi says.
Interested in studying Chinese at Massey?
Tuesday 5 February 2019
A six-week study trip to China funded by a Prime Minister's Scholarship to Asia (PMSA) has given 15 Massey students a deeper appreciation that learning Mandarin is a ticket to greater cultural understanding and job opportunities in the future.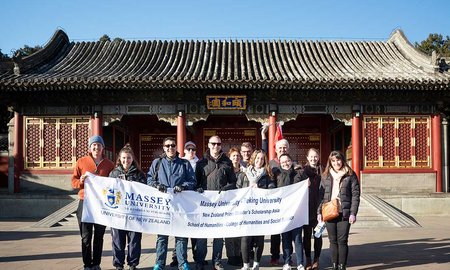 Tuesday 10 October 2017
A Chinese singing competition and free film festival are among activities to mark New Zealand Chinese Language Week at Massey University's Auckland, Albany campus from October 16 to 22.