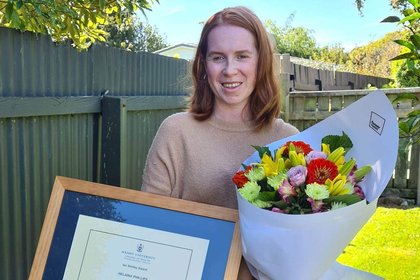 While making her way through her Bachelor of Social Work (BSW), Lainey says she came to appreciate the important link between social policy and social work practice.
"We are taught to critically reflect on and analyse the impacts of policy on the whānau and individuals we work with, including how policy affects our ability to practice at the micro level. I definitely feel it was an important component of my training."
This year, she was named the recipient of the Ian Shirley Award for 2022, which is presented annually to a graduating year student with the highest combined GPA across the 279 prefix courses within the Bachelor of Social Work or BA (Social Policy) qualifications.
Lainey says she found social policy to be interesting, which meant she put more effort into learning about it.
"That's really been the drive for the entirety of this degree. It's important to study something you're interested in and passionate about because it makes the journey just a tad easier – though it's still challenging of course!"
As a newly graduated social worker, Lainey says she is focusing on developing her practice.
"I'm working in health, which has been very interesting as there is obviously a log going on right now in this space policy-wise with the major system changes being made. It will be interesting to see how this affects social work practice in the wider health system, as well as on a smaller scale, such as at Whanganui Hospital where I am working.
"I'm really looking forward to growing and developing my learning and practice with the awesome team I have around me," she says.
Head of School of Social Work Professor Kieran O'Donoghue says Lainey is an outstanding recipient of the Professor Ian Shirley Award.
"She will make an excellent contribution to social work through her strong social policy analysis and great skills in connecting with people and communities."
About the award
Professor Ian Shirley worked for the social work and social policy program at Massey from 1977 to 2000, and was the Head of Unit/Department from 1984 to 1998. Professor Shirley was awarded his PhD from Massey and became a Professor in 1986. He was the first Head of Department to be based on the Auckland campus, and his leadership was instrumental in social work and social policy being offered in Auckland. Professor Shirley made a significant and lasting contribution to social policy, community development, and social work.
The award was established in Professor Shirley's honour with the aim to recognise significant student achievement in social policy courses undertaken as part of their completed qualification.
Tuesday 25 October 2022
The School of Social Work acknowledged their top students at the Social Work Student Awards ceremony on the Auckland campus last week. Both undergraduate and postgraduate students were honoured for their continued dedication to their field and high-achieving accomplishments.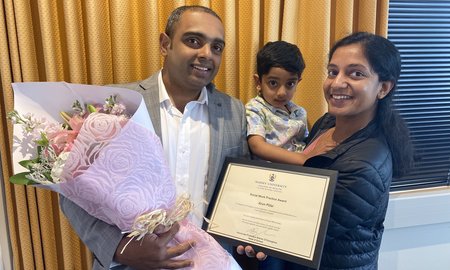 Friday 14 October 2022
Alyssa Cowie has been awarded the Ian Shirley Award, which recognises significant student achievement in social policy courses.